Southbound Day 9 - New York to Norfolk 1 - Off Atlantic City

Caduceus
Martin and Elizabeth Bevan
Wed 19 Sep 2012 22:59
Position 39:32.86N 074:07.63W
Date 2359 Wednesday 19 September 2012
A mooring with a view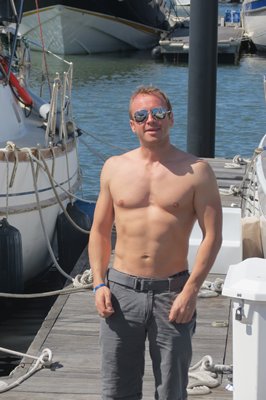 From the incredible hulk to the incredible hunk in 4 months – shedding a mere 4 stone!
We waved goodbye to our guest crew and slipped at 1230 in order to get a full ebb tide out under the Verrazano Bridge and through the Narrows heading out around Sandy Hook and then south towards Norfolk.
The Verrazano Bridge and the Narrows, the departure route from New York
Coney Island courtesy of telescopic zoom setting
Manhattan at 17nm
Manhattan at 17nm courtesy of Canon SX40HS
Back to sailing and with very light and fickle winds it was back to motoring. A pre-prepared curry provided a very welcome supper and it was back into the routine of overnight sailing. Avoiding tugs with very long tows to huge barges provided the after dinner entertainment.
---