Sailing with a purpose or Living the Dream part 2

Salsa af Stavsnas
Ellinor Ristoff Staffan Ehde
Wed 27 May 2015 20:10
As we have discussed "lIving the dream" before, I think there are some more interesting thoughts we could look at.
I have been criticized for not being able to relax during this journey. People have told me that after a year my shoulders will drop, now some tell me that it takes three years. But what is the goal? To become a passive onlooker to whatever happens? What is the ideal cruising life? To just be a tourist dealing with real life problems in exotic places?
The reason I'm asking this is that what happened with Vanuatu was an eye opener.
When the hurricane had passed, 300 boats were actively sailing around the Fiji archipelago, that is a figure Yachtreports could give me since you have to report to them every week while in Fiji.
Out of these 300 boats 3 choose to do something for the victims of something that could have happened to everybody. That is one per mille.
Im not throwing any stones at anybody else, Im just looking at ourselves and the reason we did it.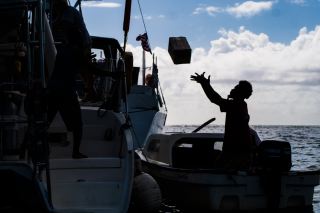 Seamercy has this tagline: Sailing with a purpose,
those that know me professionally know that the word purpose is magic to me. Whatever any academic thinking or theory sais about entrepreneurship, you only need a challenging purpose to move forward. That's it.
So if you are reading this blogg thinking about sailing off to your dream, think about it, what is your purpose?
There could be an inner purpose, like we met Peter here a couple of days ago, he is sailing because he lost his wife and he needed to get out of a loop.
I think the best part of our journey has been to be with the family, that sounds like a cliché - but I really mean it, it is a huge difference to be the teacher of your kids and it is a great experience to solve survival problems with the one you love. It has a new dimension in a relation.
We met people that have told us they have worked so much that now it was their time to take a vacation- a long vacation.
All this is beautiful and true, when we are privileged enough to make it. But some of us will have a problem with the inner purpose, it will not be enough.
I have had three years of thinking and writing, but also three years of stress when it comes to safety and maintenance. To sail over 30.000 miles has its toll and it is not necessary that kind of stress I need (some do!). On the other hand you could say that to be outside the comfort zone stretches my experience and makes me a good skipper, but then again, what is the purpose?
(photo by Shannon Grant on LilExplorer)
When we gathered with the others in the Seamercy fleet there was no doubt why we were there. At least one person on each boat had a need to outer challenges, to an outer purpose.
To me life on board came to life when we had to help others, it was wonderful to negotiate unknown waters when there were people in need ashore, I could live with the bad weather when I knew that we were the only ones who could get to a village to help.
So whoever you are and whatever life you are dreaming about, it might be a good dividing wall to look at if you need an inner or outer purpose.
It can also change over time, I guess that Peter will eventually move on from the emptiness left by his life companion, then the boat might not be needed anymore or it becomes the vessel that unites him with a new soul.
If you never thought about the purpose of your life, then a sailing trip might be a good way to give yourself time before it is to late. The movement of the vessel, the grandness of the ocean and the sky, the small crabs on a deserted beach or the intense traffic in a big foreign city, they all make a perfect back drop to your life and your thoughts, but they are... just back drops, sceneries. So if you want to be part of the scenery you need a purpose that can change their life, even in the smallest way.
(photo by Shannon Grant on LilExplorer)
---