E-books what is good and bad

Salsa af Stavsnas
Ellinor Ristoff Staffan Ehde
Wed 20 Aug 2014 04:20
A day like today s all about school, writing ( I have been working on the book) and bread baking.
We have trimmed the rig and done a little bit of swimming and snorkeling.
The temperature is about perfect, not to hot not to cold. We can sit under the bimini and just enjoy the wonderful climate (if we had time).
Right now Erika is reading a book, she has been reading it all day. Her favorite author right now is Laura Trenter.
Writing about books...
Very early you could tell a family on vacation from a family en route.
The vacation family could be found on clean decks reading a book all day. A nomad family have laundry all over the decks and people are busy
fixing stuff everywhere.
This does not mean we have no time to read, but we are not on vacation... we are in a project.
So we do consume some books, let me tell you a bit about how it works today.
We prefer e-books because you will load the boat to deck with regular books.
But there is another enormous advantage, we can borrow from the Swedish Library online or we can buy books from Amazon or other sellers.
An e-book is any device that lets you read a book electronically.
Hardware can be any form of Ipad or other screen like phone or an e-book reader.
The latest has the advantage of NOT having a screen with background light, it has a white surface with electronic ink.
This means you have the same experience as reading on paper (sort of).
Very good in bright sunlight and it uses a minimum of power, you can read more than a week before charging it.
Drawback is that you have to have a light when reading.
I would divide the ebooks to 3 systems:
first you have the system that takes everything, this means you just download the app needed to read whatever you are reading.
This you will find in Ipad and I think in Samsungs devices.
Second you have Sony reader that takes only e-pub, really good for reading books from the library.
Third Kindle, that only takes books from
Amazon.com
(the latest is the cheapest option)
I use my Kindle a lot and i love for instance the possibility to just point at a word I do not understand and it gives me the explanation on Oxford Dictionary within 1/3 of a second.
I can also highlight text and get it in my notes just by pointing and mark.
I love those functions.
The weight of my library is the same and I can carry 200 kg of books in my reader. Digits have no physical weight.
When I buy a book I have it the moment I buy it and the price is much lower than physical books (at least on Amazon).
Choice? well on Amazon you have more than a million titles to choose from.
You might also want to look into the enormous library of free books that are classics and without any ©opyright.
Erika reads one book a week and thank god we can borrow them from the library in Sweden. She has her own Sony reader (red).
Ellinor has her own Sony reader (black) and she uses the library a lot too.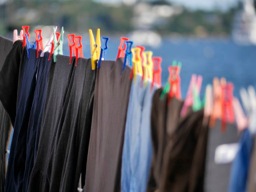 ---