more about yesterday

Salsa af Stavsnas
Ellinor Ristoff Staffan Ehde
Wed 1 Apr 2015 02:23
When you are in Viani bay you are in for a guy called Jack. He is a local guy that jumps on yachts and guides you to whatever you wish to do.

As we were keen on seeing some nice parts of the reef we asked him to take us there.

Bendt and Ana from Impi, Craig and Leane from True Blue Five jumped on our boat and off we went.

What a tour! We got to see the most magnificent corals we ever seen.

It is all pristine and feels totally untouched.

We also spotted some good size sharks that patrolled the reef. But my camera for underwater is really a small lousy thing that now only records half of what I shoot...



Staffan and Leane
Jack
Craig and Ana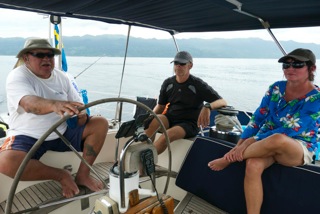 Crowd on aft deck
Getting onto the dinghy
Oh yes he literarily takes over the boat
Craig and Ana
Brendt is "charging"
Andreas under the water, so cute!
---