How to choose a boat for nomading

Salsa af Stavsnas
Ellinor Ristoff Staffan Ehde
Wed 16 Jul 2014 23:29
Since we have gotten several mails asking us for advice on boat choice I will put out a chapter from the book Im writing right now.

If you have any opinion let me know. Love to change things I got wrong: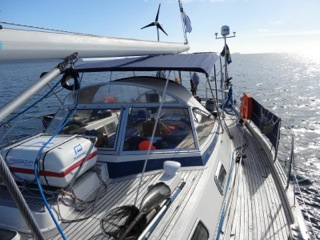 What you should look for that is hard to change on a boat.
As we have sailed Salsa on long journeys we realize what a long distance boat needs that we appreciate:
A lot of capacity in water, divided in four different stainless steel tanks. Even with a water maker you need a backup of many litres. In different tanks because things can happen in one of them (most often we heard about leaks emptying the tank into the bilge)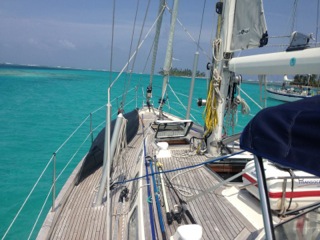 A lot of capacity in fuel, at least divided in two tanks. Ideally something called a day tank that is prefiltered.
Now you might think it can be compensated with jerry cans on deck. Well it can but the performance of the boat is endangered. If you look at how much 500 kg on deck can change the boats possibility to make a roll, you will not want any of that. The other issue I think that cannot be stressed enough it that to keep decks clean as far as possible. In heavy weather everything on deck that takes the pounding from tons of water will eventually come loose, and then it comes like a rock and it can smash windows, hurt crew or damage your equipment.
A long haul sailing boat should have handles everywhere; you have to be able to hold on.
Forget double beds when at sea, you need bunks. If you want to rest you cannot hold yourself on to the madras.
The spaces should be defined and there should be a possibility to work on whatever you do without falling all over the place.
When you look at a boat, imagine it being upside down, what will happen to the interior?

Are all the spaces safe? Not that you intend to sail upside down, but one freak wave can change your plans.
A long distance sailing boat for a family needs a LOT of storage room. Inside for food, toys, clothes, spare parts, more spare parts and tools, oh yeas bicycles (more on that later)
Outside you need to store a gasoline tank for the outboard, dinghy, snorkelling stuff, fishing gear, engine oils, battery water, coolants, hydraulic oils, cleaning chemicals, covers etc. In short you need storage below deck but outside your living area.
A long distance sailing boat has to be serviceable, check how is it to change oil and filters. How easy it is to change impeller (because you will become a master on that), fan belts and the other easy stuff. Some boats are a night mare to work in the engine "room".
You will spend a lot of time doing work on the engine, no matter what you think, and in worse case scenario you are fixing it in a heavy swell approaching a coast as the impeller gave up just when you started the engine.
Some boatyards, for instance HR take a pride in even make it possible to haul out an engine through the cockpit without tearing the boat apart. This made me laugh until we had to… haul out the generator in Las Palmas.

There was no other way we could have fixed it.
When it comes to toilets, look at the direction of the toilet seat, will it actually work in certain seas? You also need a holding tank, for two reasons, one, you do not want to spoil the nice lagoon you share with others, second you will be enforced to close your toilet in some countries. If possible fit a deck fitting were the toilet can be emptied at places with such facilities. The toilet is NOT a minor thing when at sea. On our boat you are not even allowed to THINK that you could make it directly into the ocean. We simply do not allow any activity on your own outside the cockpit. A hard thing to imagine before you have done it is the following, the boat will lean one way for maybe 14 days in a row, then you might jibe and go the other way 6 days. There is no rest from wave movements; there are things that have to be done. Especially with children on board you cannot vegetate. You HAVE to cook, you have to clean a child's butt after making number 2 in the toilet.
You HAVE to be excited and make a cake for a birthday, even at sea. You HAVE to toe step LEGO even when you just would want to rest. You HAVE to move away toys with a smile to get a tool out. Even when opening the floor board to check the bildge you have to remove toys so they do not end up clogging the … bildge pump.
Even if the saying goes that you sail around the world, sailing is what will interest you the least, on long passages. When you are speeding in an archipelago and enjoy the views, the wind and the flat sea, that's when you are sailing. On a long passage you would love that sailpower to take care of itself.

That brings us to the next part of what you want on a long hauler. A rig that you can trust. I love the extra backstays that can be put into place when sailing in hard condition or when we use the jibe.
Our rig is a sloop and all sails can be pulled in and out from inside the cockpit. Since we have a furling main we can even do that downwind. It is all handled with hydraulics and winches. If they fail? A question we get all the time, then we have to use handles and do it manually. Never happened so far. Hydraulics and electric equipment are dangerous in the sense that you can break most of the sails and lines with it. So always make sure you can see what you are doing! No more about sailpower now since it can be decided on after you bought the boat.

Old or new
You might have a much bigger budget than we had, or a smaller. If you are on a limited budget you might consider why you would buy a boat that is 20 years old when you can buy one that is the same size and much newer for the same amount of money.

I will not take the risk of being called by some boatyards lawyers but let's put it this way, you pay for what you get. And in a family sailing situation the last thing you want is a hull that twists in a wave train. Does it sound like something impossible? Make sure you talk to delivery crews before you wave this aside and get impressed by the shiny hull and the brand new interior. Some of these crews will tell you horror stories about the interior folding itself to a pile that reminds of IKEA furniture when you buy it. Even if the interior can keep itself in place it is a nightmare to be inside a boat that twists, it ads to risk of sea sickness and a feeling of insecurity. Remember the kids will mostly be inside while on passage. They end up doing so because they can play freely and it easily becomes their territory. New low budget boats do have a lot of fine print in their contract, one very well known brand could just show the owners that they have sailed beyond the warranty limit, because there was a paragraph stating that ocean sailing was not part of the warranty. Now this boat lost a rudder and it was a major problem, but that was only one of many. The owners regretted they had bought her brand new and thought that the name implied that she was made for the oceans…

Another family regretted their choice of a brand new boat when the deck popped off, at sea between Madeira and the Canary islands, not even in hard weather! The shipyards answer "sorry, somebody must have forgotten to glue it properly". The boat had to be pulled out of the ARC.
There are of course a lot of old boats out there you should stay away from, what I'm saying is that my choice of an old safe boat in front of a new cheaper one is given. To me that is a no brainer. There is a BUT, it helps a lot if the shipyard is still around and if they have an after sales department. I love Hallberg Rassys aftersales, they never tell us anything is too old to solve. It feels good to have such an old boat and the shipyard still has all the drawings and documentation. Is it necessary? Well today I could install new valves that are specially designed for the black water, and they came to New Zealand with courier from the shipyard 3 days after I ordered them.

If you are afraid that old things will break more than new ones, I have comforting news, our experience is that new things break just as often. The only advantage is that if you have a warranty you might get it fixed for free.
Now if you have a big budget you can buy the new high quality boat and just have fun. Make sure you have fun, but from what I have seen from others it does not take you away from the work of maintenance and repairs. I have seen new boats that have ripped engines out because of bad installations, I have seen a 3 year old generator being thrown in a container and replaced because of electrolysis. I have seen rig failures on a 2 year old rig. I have seen a brand new sail come apart because some idiot had used regular thread when they made it (you have to use UV resistant thread). I have heard about a brand new engine installation were they managed to place the air intake in the bilge (so it sucked the engine full of saltwater when the boat was leaking in really bad weather), well there are a lot of stories around and as long as the boat is seaworthy it looks like the amount of problems are equal.
My theory is that it all comes down to 3 things, do not sail away with a brand new boat or a brand new installation of some sort, use it for a year at home before you take off (well that is easy to say). You have to be on top of everything, all the time, and that is tiring unless you love engineering (some do). If you have a brand new boat were you paid 1.500.000€ your expectation is high. And if something goes wrong it will probably make you mad. Think about it, most things that make you angry are connected to expectations. It's funny how it works, if I have something installed by a shipyard and it does not function, I will stand back, get angry, put my hands on the hip and say that THEY have to fix it! When I have installed something by myself, I mutter and start searching for the problem. Interesting hmmm?
---