Leaving Savusavu and bilibili

Salsa af Stavsnas
Ellinor Ristoff Staffan Ehde
Sun 7 Dec 2014 01:19
Did I tell you? Now Salsa is hanging on a cyclone mooring. And to start with we had a real bad weather, gusts and rain all day yesterday.

The kids are taking their bilibili into action
I love this set up, Erika convinced Andreas to be her sea horse...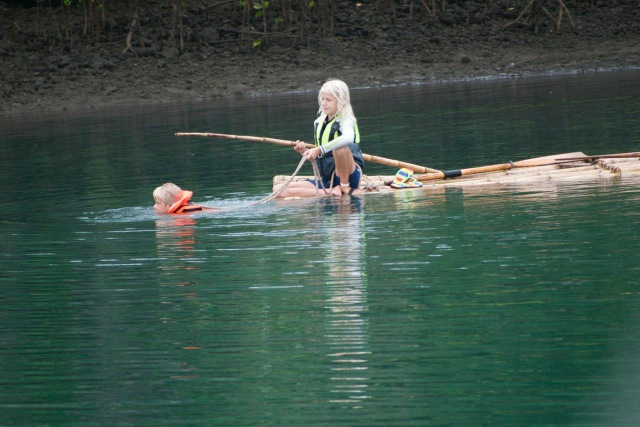 I have been trying the bilibili myself and must say that standing up (as you are supposed to do) and push or paddle with the bamboo stick
is very efficient and it takes the whole body and today i have sore muscles...
Went up early this morning and the whole family wanted to eat breakfast with me as Im going away for a week.
All spoiled rats on Salsa were "pushing" breakfast into our mouths and all were tired and it suddenly reminded me about life and how it is
for most. You go up with the alarm each morning and force feed yourself...
Well we always sleep till we wake up (me at 6-7 in the morning, the kids about the same, Ellinor closer to 8) and when we eat it feels good after a morning swim around the boat.
So I suggested this morning we should have a morning each month were we set the alarm and hurry to get ready and all have to be in the dinghy dressed at 7.30 am.
Well I can tell you that was not a popular idea... at all. It will not even be considered for a Monday meeting. To bad, I though the idea was splendid...
My cab picked me up and when we got to the airport I just stepped up to check in
This is checkin in Savusavu, you go in and stand on a scale so they can weigh you...
You get a ticket and thats it....
The Twin otter, lands, turns around and you can watch it with no fences or security control...
Get on board sit down behind the pilots, they run a security check and take off 20 minutes BEFORE departure time. Well, they say, why wait?
We rise through the rain and the plane shakes in the wind
Leave the coast of Vanua Levu
Now Im sitting in a hotel room watching the bay were we laid with Salsa a month ago, same world, different views....
---