A typical working day in Whitianga

Salsa af Stavsnas
Ellinor Ristoff Staffan Ehde
Sat 22 Feb 2014 07:17
07.30 The alarm goes off
We start to make breakfast, it normally consists of home made yogurt, home made muesli, coffee for the adults and milk for the kids.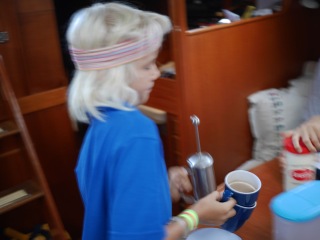 We also make their lunch.
Then it is time to brush the teeth, load the backpacks and take off to school.
We take the bikes and we need about 5 minutes to get there.
I'm usually the one who leaves the kids.
Bike back and start working on my book, an article or my speech. Ellinor does some work for the boat or paints.
We eat lunch at 11.30 and then I continue work with my stuff and Ellinor takes a short nap. By 2.45 she takes off to get the kids.
When they get home life comes to the boat. They want to tell million stories and it is also time to make the homework.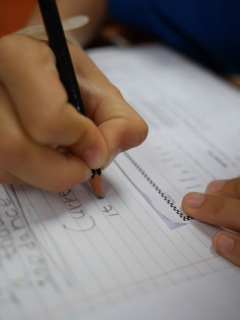 By 16.00 Ellinor does her yoga and I go paddling for an hour.
We make a simple dinner and eat by 17.30
The kids play after dinner till 19.00. We clean dishes etc.
At 19.00 we start bedtime for the kids. Time to brush the teeth. Read a story and put them to bed. By 20.00 it should be quite but is rarely so.
Erika usually reads something for Andreas in his bed since he thinks it is unfair that she can read in bed and he cannot...
By 21.00 I sit by the computer as the Swedish trade starts. I trade for about two hours and then go to bed. Ellinor reads or plans some changes on the boat (she is always working on something).
23.00 I go to bead and read for an hour or two and then fall asleep.
As we have listed all that has to be done on the boat before we go home we will most probably use a day or two a week to do that work.
OK Just kidding, the languster (called crab here) was a saturday night treat from a neighbor, they just came in from a dive and gave us this great gift. It was still alive when we got it...
The best languster I ever had, no kidding.







---