Regatta 1 pics

Salsa af Stavsnas
Ellinor Ristoff Staffan Ehde
Wed 16 Oct 2013 18:31
As mentioned earlier, we were crew on Felice on the annual Vavau regatta. It was a lot of fun sailing just for fun....

Traditional long hauler that participated, and the map our skipper Maria got 30 minutes before start
Tactics discussion before start
OK lets go, sail out! Louisa from Blue Marble on the winch
Erland from Blue Marble making a pole from a hook
Zoomax, an Italian boat passing us with great speed (Felice is an old heavy woman)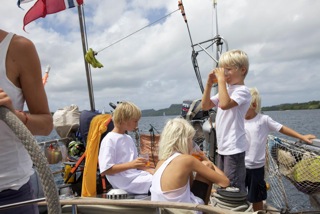 Well some of the crew is not that interested in sailing...But what is that!!!
It's a practical joke made by Jo and some other Norwegians, they approached "Red Sky Night" when they where sleeping and
made this very low class piece of art with masking tape....
But when you do that you ask for trouble...
If you look close there is a black spot ion the air, that is a water filled balloon and they started to bomb us with those, our
kids responded with throwing ice cubes
Unfortunately Erika who was not even participating got a balloon right in her eye and she got hurt, that stopped the war.
So instead of "war" we could concentrate on sailing
---