Fall is moving in

Salsa af Stavsnas
Ellinor Ristoff Staffan Ehde
Wed 5 Mar 2014 06:53
Well now the summer is officially over in NZ.

Today the children should have had a Tsunami drill, but the skies opened and let tons of water flow over Whitianga.

So no Tsunami today.

Our days are extremely busy now. We are working on really tough stuff on the boat, the entire forward hach is gone and the rear window in the aft cabin is out of place.

Ellinor and Craig are working on that. I have taken the huge winches apart and cleaned every gear wheel, spring and shaft (and there are many!)

At the same time Im really rushing on with the editing since I have decided the book has to be sent before the end of this month.

Next week I have a workshop for the business people in Whitianga, we are going to look at how we can get more yachts to Whitianga.

On thursday next week I have a first try on the new speech thanks to Ian who has invited about 30 people for an evening in Auckland.

The children are amazingly good with school and it feels really good that they have this experience.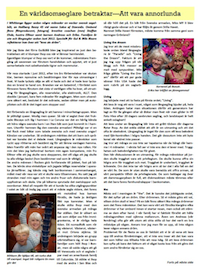 ---