A day of work

Salsa af Stavsnas
Ellinor Ristoff Staffan Ehde
Sun 21 Oct 2012 16:55
Erika took some pictures that would be a good counterbalance to pictures of us on the beach.
First of all we hate to tell you that it is very traditional on our boat when it comes to certain matters. But then it looks different some other times...
Our big engine a Volvo Penta TMD 30A needed a 200 hour service, so today I spent 6 hours in the engine room. Very hot! ( A bad start is that you have to start the engine and heat it up so the oil gets as light as possible, then it is easier to pump it out)
The engine is the size of a truck engine and it is from 1989 so you have to be nice to her...On the other hand she holds on to every nut and bolt like you where trying to steal it.
I realized a funny thing today; never been interested in engines, but today I listened to the water flush in the mufflers and LOVED the sound! I can understand people working on engines that there is a satisfaction when you hear things that work well. Why the water in the mufflers? Well we had a problem with the impeller that I fixed on Biscaya, and since then we always check the flow. Now I was checking the exhaust system for leakages or any other problems (not many know this but exhaust systems have been able to sink boats when water went the wrong way so you have to check them).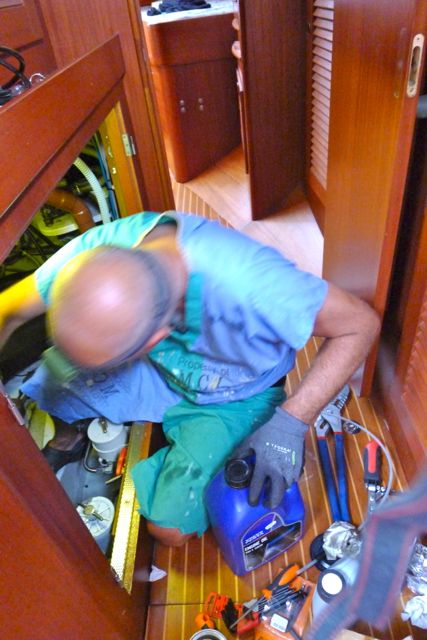 New air filters, and new oil and filters. And yes there is a lot of cleaning after service is done, no spill left anywhere.
Fan belts etc the checklist is long and provided by Volvo Penta.
The engine room (fluorecent lights in there), first you see the big machine and in the background the small diesel in a white
cover, it is a Fisher Panda that delivers power if needed (not much anymore as we have solar panels and wind generator).
The nice dress I have on is from NY, Ellinor borrowed some outfit from the surgery departement when she worked there.
Since then it has been used when we paint and do all sorts of dirty work ( I mean dirty, not dirty)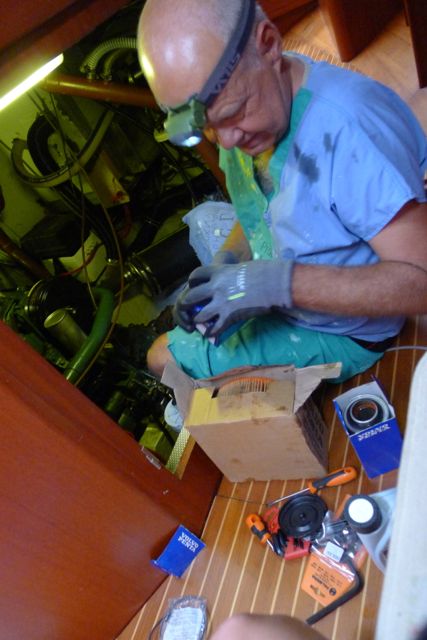 You climb in and out and it is very claustrophobic in there
Then Erika followed Ellinor and I have no idea why she did not take more pictures...
There is always a line to get into the washing machines...
---