so what happened?

Salsa af Stavsnas
Ellinor Ristoff Staffan Ehde
Thu 20 Mar 2014 08:02
Our propeller head got to climb in a mustang like plane.
Peter the owner is a friend of Craig and he let Andreas climb on board and get a feel of a plane from the inside.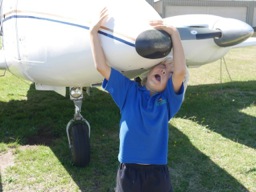 Later same day the kids had circus for us in the boat (well it was most dancing)
And during the days we are working on our beloved teak deck...
1st of April Salsa comes out of the water and before that we have a long list of things to be done...
---