Borkum- Vlieland N 52.50.54 E06.21.15

Salsa af Stavsnas
Ellinor Ristoff Staffan Ehde
Sat 14 Jul 2012 09:34
It is hard to keep up the diary when there is no internet connection. Thank you everybody that writes us about the blog.
Our satellite connection is working but we try to save traffic til later when we need it.
Now we are in Vlieland/Holland, it is one of the islands that makes a chain along the German and Dutch coast.
This is what happened after leaving Cuxhaven.
We took of with goal Van den Helder on the island of Texel, a 48 hour run withiout stop.
The German/Dutch coast along the Nord sea is very hostile with few harbours, rough seas and hard wind.
After a great nights ride with good winds the wind started to point against us at the same time the tide turned against us and soon we had 2 meter waves hitting our bow.
We tried to tack against to make progress but with very little success. The problem is that when the wind is strong you have to reef and have less sail but at the same time you need power to make it through the waves.
We decided to stop the fight and still had to work another 4-5 hours to make it to harbour, in this case we had one choise, the island of Borkum.
As we were scooping lot's of water in the bow our front cabin got soaked with salt water. The problem was that I had changed temporarty hatch sealings to the original from the factory in Italy, now afterwards we have found out they sent the wrong size...
Borkum was an old military harbour, and next morning we took off with favorable winds towards Vlieland were we have been before.
As we approached Vlieland in Holland we were boarded by the Dutch customs, very friendly but they took their time.
Now we are stopping here for another night, it is time to make an engine check, cleaning clothes and the children look forward most to chase crabs.
Pictures taken by Erika: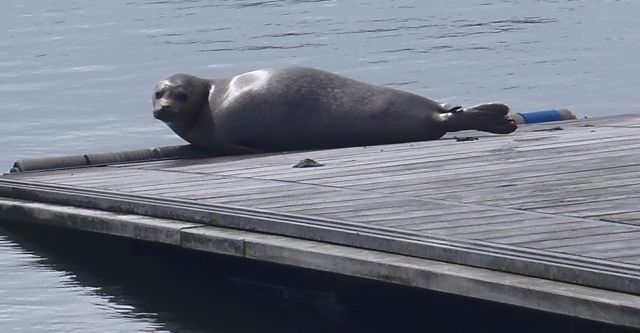 Sealion in Cuxhaven
Boarded by Dutch customs
---