Lesson learned - equipment and boat

Salsa af Stavsnas
Ellinor Ristoff Staffan Ehde
Mon 15 Aug 2011 15:19


Well, we are just at the beginning of the trip and so far we are very happy with the boat and the equipment on board, there are issues to be taken care of, but no surprises at all.
Starting from the bow we have a new anchor from Rocna that so far has behaved like a handbrake on a car. But we have used it very little.
Second anchor is a Fortress, because of weight and track record in tests, we have used it now in the Swedish archipelago and it has been great so far (we anchor from the rear when approaching a cliff).
Bow thruster, what a great invention! And yes it is a strong one that has given us peace of mind, but the best part is that we can use it with our feet, no fumbling at the wheel, just look where we are going and press the pedal to the medal...
Sails, they are old and will be changed, will get to that later...
Hydraulic furles for the sails, feels like cheating, but it makes the night when I can sleep and my wife can reef on her own

Toilets and showers, worked and there has been some work to be done and still to do. The thermostats have to be cleaned and taken care of.
There are filters everywhere and that is great, especially where you take water from the sea. For instance the fridge and freezer have watercooling wich saves power (at least in cold waters).

Interior, storing, well that is no surprise that Hallberg Rassy have made a great job! Same with tanks, 1 ton of water and almost a ton of diesel can be stored on board.





Watermaker has been installed in UK but not started yet.
By the way, if you are a Swedish sailor, look at prices in UK before buying in Sweden, expensive equipment like watermaker is half the price, same thing with wind rudder.
Our choice fell on Hydrovane, 2 reasons, we have worked a lot on redundancy and Hydrovane gives us an extra rudder.
Hydrovane is also a system that works independently from the main steering.

Plotter, you can read more about it in the Lesson learned, Navigation.

Engine, Volvo Penta MD31A, no choice there, it came with the boat and has been very reliable, but as a proactive measurement we have installed a double diesel filter that we can just switch as we go. The idea is that we will probably get into trouble when we need it the most and will not have time to clean it at that moment. The filter shows the interior with glass bubbles and has a meter that shows if the pressure is going up.
Generator, a brand new Fisher Panda will have to show if it is good, we have only used it a couple of hours. We are not happy being dependent on just diesel as a source of power so we will install solar power. The ideal i Solarstick but they seem to have a problem with answering emails when you want to know the price.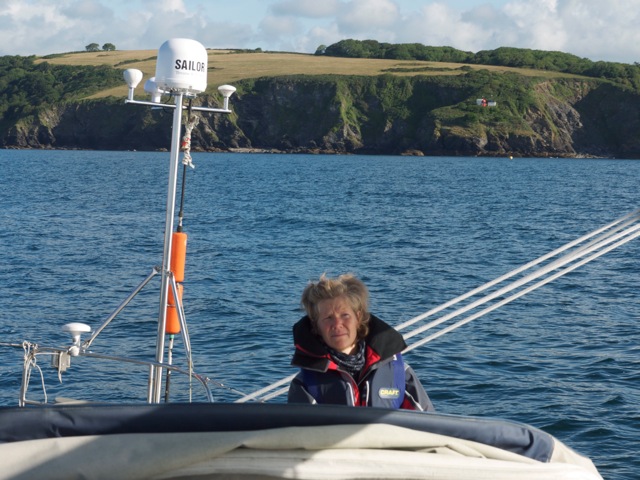 Communication, our satellite choice fell on Fleet Broadband 150, but most important we have mailasail.com as the provider of server etc. They make sure we keep our costs down.




VHF, we have Icom both as VHF and AIS transponder receiver, by using the same equipment we can contact a ship directly via AIS.
AIS is by the way a great stress relief factor, if you don't like to be runned down by a cargo ship.




Dinghy, well I do not even know the brand, but it is one of those that probably will not last for long... As engine we have two chioces, Yamaha 2,5 four stroke and a Torquedoo electric engine. The later is great, makes no noise and just everybody can drive it (well and that is not always good as my three year old sun put it in full speed reverse when I was climbing on board...

Well that might do it for a start, mail us with opinions if you want.





By the way, Jim Cornell recommended that you get a vacumpacker fro food and equipment. We got one from foodsaver.com, you can pack spare parts etc that you want to be free from corrosion etc when it's time to use it. Here is a tool I packed that I hope I never have to use...
---