Great weekend

Salsa af Stavsnas
Ellinor Ristoff Staffan Ehde
Sun 9 Mar 2014 08:38
It is funny but now when the kids are in school we seem to be more keen on seeing things when there is time off during weekends.
The weeks are very busy. Now we are both working on the boat and Im helping out a company with their profile and purpose.
At the same time Im preparing a workshop we will have with companies here in Whitianga and then it's time to go to Auckland and try part of the new speech on an audience there next week.
Then we moved on to a café that exhibited one piece of every artist on the art escape tour
The kids found some funny children furniture...
The we came to Verena and her exhibit, she has great paintings that makes you really happy
I will put a link later on so you can check them out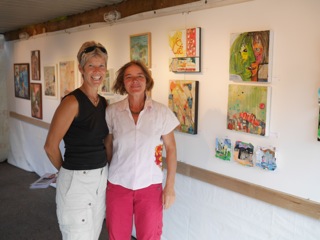 As we were on that part of Coromandel we had to take a quick tour to Hot Water Beach.
That was hysterical. You go there when it is low tide to dig a hole where you will find up to 70 degrees hot water.
The problem is that the strokes are fairly narrow so everybody wants to be at just that part...
---