What a vacation!

Salsa af Stavsnas
Ellinor Ristoff Staffan Ehde
Sun 16 Feb 2014 07:38
Hard to describe. But when you live a nomad sailing life, your boat is your house and everything becomes serious in a way.

There is a couple here in Whitianga, Craig and Verena they run a small company that takes care of boats. But they have a sailboat themselves just next to us in the marina.

Craig described Mercury island with so many loving words so we decided to let go and just sail for fun to the island.

We left friday afternoon as soon as the kids got back from school. And what a weekend!

It was such a treat to be able to swim from the boat and the whole place was like a dream. Enjoy the pictures!

By the way scallops just from the sea... what a treat!
Full moon in Motutaika Point Now what are they doing? well Craig have maid a dinghy that has a glass window so you can look into the water
Graig and Verena
They took our kids for an excursion and we could take a nap!
Jaga and Salsa in the bay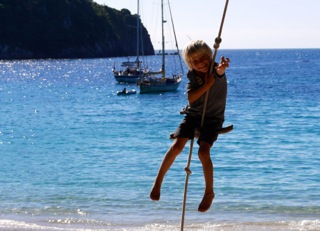 Nature on Mercury is like something coming out os a fairy tail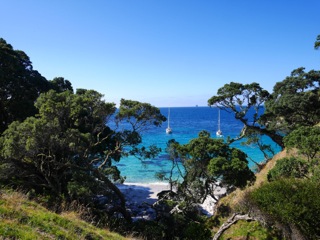 Craig showed us how to open the scallops
Jaga in front of us entering Buffalo bay
---