What a day in Grenada! pics number 1

Salsa af Stavsnas
Ellinor Ristoff Staffan Ehde
Wed 6 Feb 2013 02:30
Three boats, a lot of kids, parents and grand parents, in two minibuses with great guides, what a day!



Kristina from Miss My points at the view
Somebody gets in the way
Kalle,Emma, Maja,and Love from SY Elin
Wunderbaum? No, Wunderpalm....
Some guides are their own logo...
Soon enought we where on our own and got away from the crowd
Our fabulous driver and guide
The monkeys are wild but the males dare to come to get bananas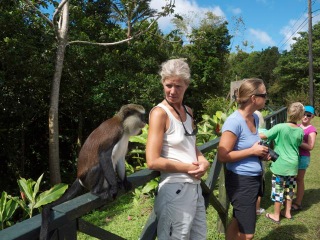 Andreas got some new friends
n
Next stop was The Seven Systers but to get there it was a long walk in the rain forest
Very steep but pretty dry...
---