Bundaberg Port Marina to Scarborough Marina, "sailing" 200 Nm - 19-23 November

Sans Peur
Grete & Fred Vithen
Sun 24 Nov 2019 10:58
Scarborough Marina, Queensland   27 11 65S  153 06 37E
19 November - Kingfisher Bay at anchor 19-20 Nov
Nice and calm this morning. We left at 5. After 9 hours of motoring we arrived in Kingfisher Bay (around 14:00) at Fraser Island.
Distance covered 56 Nm. Weather was nice but no wind for sailing. A bit swell the first hours but then really calm sea.
Sun all day. Nice. The last part we had the current with us so we really did good speed.
It was an easy passage without any bad surprises.
Now we are anchored in 8 m. Sand, good holding. A bit of nice breeze. And enjoying a well deserved "Sun Downer".
It seems that the conditions at this very moment are very good in order to get through the shallow strait and down to Mooloolaba.
This means we will not stay here now exploring Fraser Island. I think we will do that instead when we turn North again from
Scarborough after the cyclone season.
Having a Australien mobile number with Telstra makes life a lot easier as a sailor.
And the Queensland Marine Rescue information chart, with VHF channels and telephone numbers is a great help.
We kept in contact with the Coast Guard; Sandy Straits, Tin Can Bay and Mooloolaba.
It turns out that the weather is good just now. 
High tide at the shallow Sandy Strait, Sheridan Flat Shoals, is at ca 15:00 tomorrow. 
Means we have to cover around 13 Nm tomorrow and be there around 13:00.
Piece of cake.
20 November - Anchored close to Fraser Island 20-21 November
Again a nice day. Around 10:30 we slowly sailed toward Sheridan Flat Shoals. 
We had no problems to get through the shallows. Lowest draught was 2,9 meters.
Navionics Charts was very correct. The tide did not play any nasty tricks with us.
Today we sailed motored in all 30 Nm.
Our idea was to anchor at Pelican Bay, but no, the sand bars have moved and there was no safe way to get there.
At high tide is was not more then 1,6 m where it was supposed to around 10 m.
Change og plans. Opposite Pelican Bay on the mainland we saw 2 yachts anchored close to Fraser Island.
Thats where we spend the night in 10 m of water. 
The boat next to us had 80 m of chain out???!!! so we had to reanchor. No problems. At the end we had 60 ms out.
We are not used to this way of anchoring. But here you also have to consider the strong current and changing current caused by the tide.
(there is also a lot of Aussie yacht with old equipment, not so good anchors).
We phoned the Coast Guard Tin Can Bay in order to get the coordinates for the 3 way points you need to get through the nasty sand bar,
Wide Bay Bar and the infamous "Mad Mile".
It turns out we are able to start at first light, around 4. Weather and wind is ok and the tide is right.
This information we got from the Coast Guard.
21 November - Mooloolaba Marina 21-23 November
Super early start, first light, even before. Today we need to cover 60 Nm in order to get to Mooloolaba Marina in time.
In "time" means before it's getting dark and we want to be able to get over that shallow sand bar at the entrance.
It's really nice to have a yacht with shallow draught and a lifting "keel".
We called the Mooloolaba marina (found the contact number on the Navionics chart) and made a reservation for 2 days.
61 AUD/night for our yacht. They close at 16:30 so we will try to be there before.
Again we have luck. Talking to Coast Guard Mooloolaba the confirm ok weather, and the best part, high tide 15:30.
And we made it in time. Most of the way we sailed or motor sailed.
The current in the marina makes berthing a bit challenging and no help (???) from the marina. But we made it without any 
damages. We thought it was a disaster. People watching us said we did a good job (hum).
We enjoyed Mooloolaba (what a name). It's all about the beaches. 
And we are amazed of all the activities early in the morning. There is a lot of activity; walking, biking, swimming, ...
The air around the bbq places is full of early birds cooking. Coffe houses busy.
23 November 
Super early start, again. At 4:30 we are on our way. It's Saturday, which means that the office at Scarborough marina will be closed at 12.
We will try to get there before. It's 40 Nm. Light wind. Again a day of motor sailing. And the tide and the current play tricks with you.
At some point we did less then 4 knots with motor and sails.
Entering Moreton Bay means there is a lot of shallows and carefully manoeuvring. Not a strait line.
At 11 we safely arrived. 
So now we are safely berthed here in Scarborough Marina. And this is where we will stay during the cyclone season.
Scarborough has a nice relaxed atmosphere, both the marina and the surroundings, 
Bay watch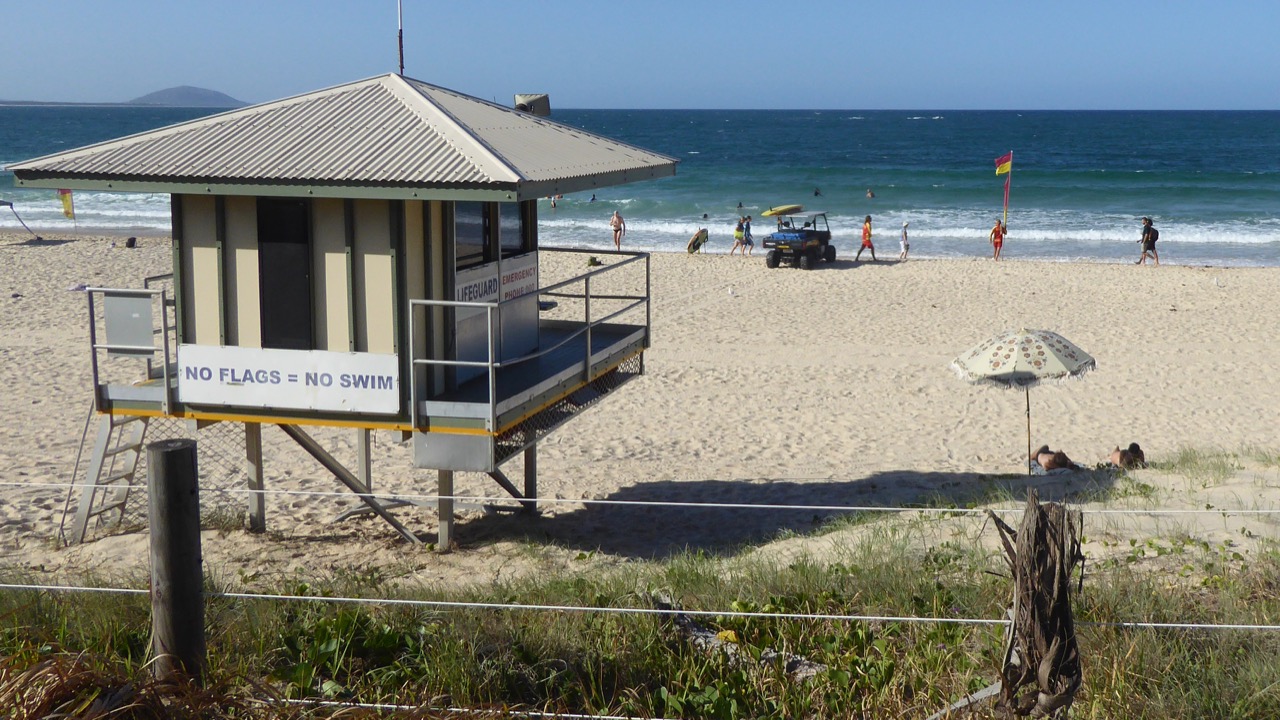 Pelicans 
---