Lemar Electrical Coversion Kit - Done

Sans Peur
Grete & Fred Vithen
Sat 2 Jul 2016 20:10
Vaggelis, electric engineer, one of the best. 
The only reason why we went to Naxon again was that this nice very skilled guy was around.
Time to add a new electric winch. For us it's a issue about security. We just do not have the powers to handle the mainsail in rough conditions.
We are always planning to sail safe short handed. 
So far we used 50% of the mainsail, works fine. But now we will try to use 100%.
What a mess, always ... when you need to improve something. Batteries are there, two of them, 24 volt, just for the winches.
11,5 m of thick cables has to be run through the hull, times 2 (23 m).
9 hours of hard labour, drilling holes etc. That was the hardest part.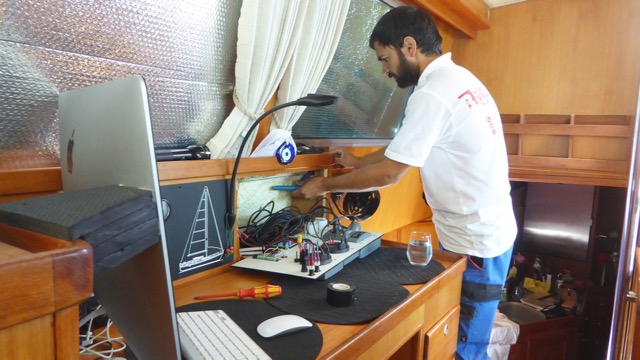 Vaggelis at work.
I give up. The boat is a total mess, again
.
Done. 
Nice and shiny. Just press the button. Suddenly there are the power of, at least, 10 young fit youngsters.
The best. Thank you Vaggelis! Perfect job done, again. 

​

---