Days in Makkum

Sans Peur
Grete & Fred Vithen
Wed 23 Jul 2014 20:17
Raining Monday morning....
It's been raining all day....
Anyway we have been able to do almost everything planned for the day. Bleekers sous chef has been here and we make some good progress at the anchor/chain/box installation.
We also drilled 8 cm holes in the aluminium hull, in the lazaret and under the steerring compartment, to increase better air circulation, which also means better circulation for the fridge and for the Webasto, the heating system of the boat.
No pics, but tomorrow we will add some nice pictures when Bloesma is going to send away the BIG ship they have been building.
It's now Wednesday, yes time is flying when you have fun.....
The new dawits have been mounted today and are much stronger. We realised that they were too week, but now they are perfect.
Yesterday and today the weather has been beautiful, sun and a nice warm brise, everything is so much nicer when the weather is like this.
Actually it has been a very sad day here in Holland. The victims from the MH17 flight arrived here at the Eindhoven Airport. At 4 pm we had a one silent minute all over Holland, to honor the victims from this terrible and horrible act against civilian people.
A very, very sad thing to happen.
By the way, the Bloesma aliminium boat had a nice and steady kick of. Impressing to look at this gigant beeing lifted on board this big barge and just slowly sail away out of Makkum.
The Bloesma team just shot down for holliday, I think, and it's just a stranges silent after hearing all this hammering all around the clock for so long. Good on them, they seem to be very keen on what they are doing. They also built Sans Peur!!
Yes it's summer here in Makkum and it's a beautiful place to be, what else can I say????? No it is.
Proberly we will spend Christmas here...............
Today we got the new anchor winch, whaoooo it's so much bigger than the old one. Now we have a new thing to deal and think about. Will the furler fit in again? Are be able to open the hutch into the anchor room??
Oh my God.. Everytime you put in a new item the present old ones don't fit in....
It's a never ending story.
Time for a good glas of vine and some thinking/ Fred do the thinking and I do the drinking........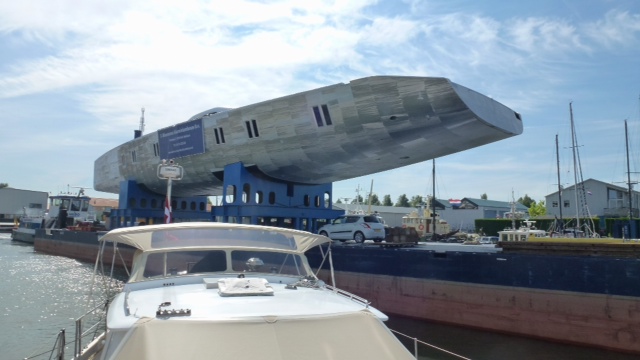 ---