Bozcaada

Sans Peur
Grete & Fred Vithen
Thu 30 Jul 2015 17:30
Bozcaada 30 July
An enjoyable restday. 
It takes some time to settle and "read" the vibes of every place you visit. 
Whoo...at this beautiful spot are we going to have dinner tomorrow night, what a view!!!!!! And here you have a working fishing harbour. Lot's of frech fish.
This is the "dream" of The Med
Little Fred in the BIG money world.

 It's almost like Greece!!!!! Of course it was Greece years ago.

Fred are checking in some of the local beach(bikini) beauties. They are not a part of the staff.
Very nice 'marina", and as usual we are the only foreigners, the Turks are always very helpful entering and mooring.
Looks nice!!! And indeed it is nice. Fancy marinas is not our idea of cruising.
Later on there will be a nice cool swim in the clear waters of the marina (not always the case).
Visiting the castle and we picked the perfect time, midday. Yes, it was vibrating hot ... but the view was amazing.
They also like kebabs, digging in in the shade.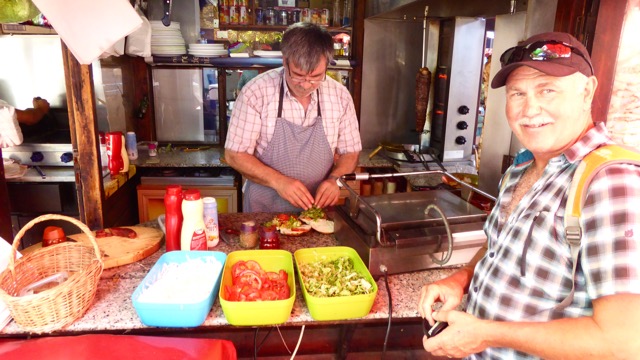 And again we found our absolute favourite here in Turkey, THE CHICKEN KEBAB.....
Tasty value for money, 1,5 €. The best food so far.
​

---