Bari - Engine maintenance

Sans Peur
Grete & Fred Vithen
Thu 3 Aug 2017 08:35
41 08 17N 16 50 91E Bari, Marina Ranieri  28/7-3/8
We have been stuck in Bari for a few days, to many.
A sort of a marina/ship yard ... no charm whatsoever.
But we urgently need to take care of our best friend Mr Perkins.
You know the not so easy drill to get things in and out.
And finding the right stuff.
This is a night mare in this heat. It's like being in a sauna at the moment.
Shore power and AC. YES!
Finding the correct and best oil for our best friend  Mr Perkins and the gear box was not that easy.
Took us days to find the right stuff. 
And then it was time to finally sail on. We don't find this place very exciting. But ...
Getting on to the oil filter in that very very unreachable place ... I find also a bolt. Turned out that one of our engine mounts broke again. Scary!
A new one ordered (nothing in stock anymore in any marina it seems).
Means that after Mr Perkins got a well deserved (our most reliable companion onboard) treat.
Hopefully a new engine mount will be mounted at 8 tomorrow and we will be fit to finally set sails again.
Really looking forward to that..
PS
7,5 l Volvo Penta VDS-3 engine oil and 2,5 l gear box oil SAE 40 minearl plus 2 diselfileters and a oil filter plus impeller was changed.
We did it our selfes. Good on us! 
We met Jenny and Andrea in Bari.
Together we had a treat at Eataly.
See you in Islas Canaries next time.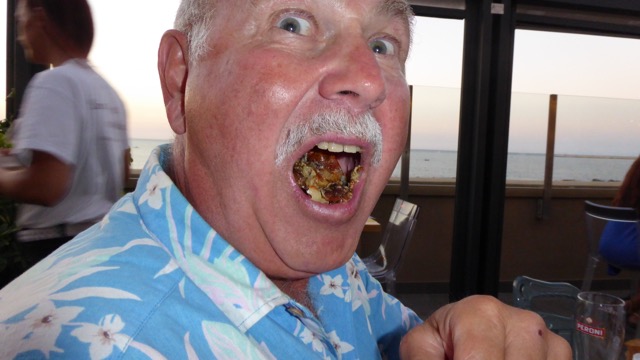 ​This was an odd snack. A pity to kill and eat those small crabs.
Jenny and Andrea on their way to Croatia, 29 August.
This was our favourite eatery. 
Nice relaxed atmosphere, pleasant funny stuff and very very good pizza.
Two big beers and two crispy pizzas with lot of extra cheese, 15-20 E.

​
​
​
​

---