Jamaica; Leaving Kingston, heading for Montego Bay - Tomorrow, night sail to Cuba

Sans Peur
Grete & Fred Vithen
Mon 4 Jun 2018 21:21
Montego Bay, at anchor outside Montego Bay Yacht Club  18 37 19N 77 56 28W
This is our sailing itinerary, leaving Kingston (Southside)  for Montego Bay (Northside):
Pigeon Island, at anchor           31/5 - 1/6     17 47 92N  77 04 66W    25 Nm
Great Pedro Bluff, at anchor      1/6 - 2/6      17 48 65N  77 32 19W    44 Nm
Bloddy Bay, at anchor                2/6 - 3/6      18 20 99N  48 20 43W   49 Nm
Montego Bay YC, at anchor      3/6 - 5/6       18 37 19N 77 56 28W    28 Nm
Our very good mate from Australia, Max, arrived on the 30th and the next day we hoisted the sails and took of.
Going East to West with the wind and the swell, sailing most of the time. The last stretch from Bloody Bay to Montego Bay we had to motor.
Tomorrow there will be a night sail, heading North, to Cuba, about 130 Nm to cover.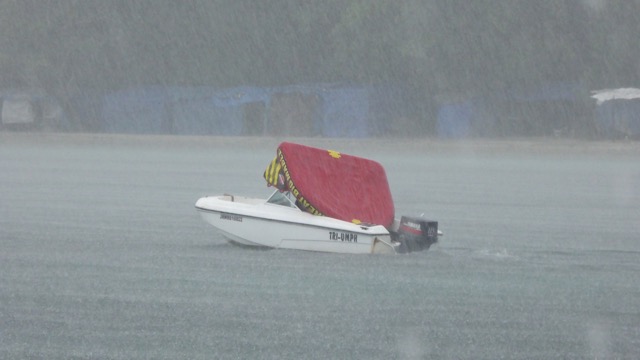 Bloody Bay. Suddenly we got the boat cleaned. Nice ... but the dinghy almost sunk. Heavy tropical rain.
Like 20 cm in a couple of hours. Maybe a little touch of 'Alberto" who hit Cuba.
Next day the sun is out again, as always. 
This is the last stretch from Bloody Bat to Montego Bay, 28 Nm motoring.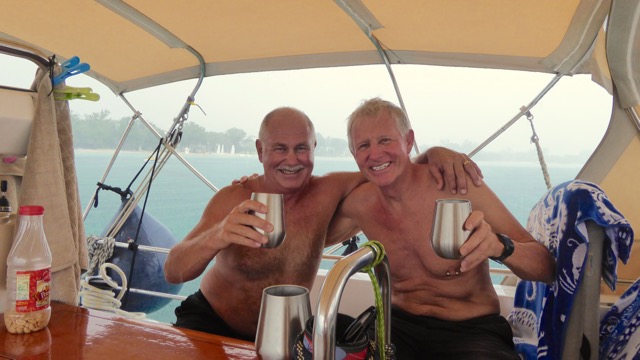 Our good friend Max. Sundowner as always. Works in heavy rain as well.
​
---