Out of the water

Sans Peur
Grete & Fred Vithen
Fri 4 Jul 2014 05:30
We are almost finished with all new installations and preperations. Hopefully!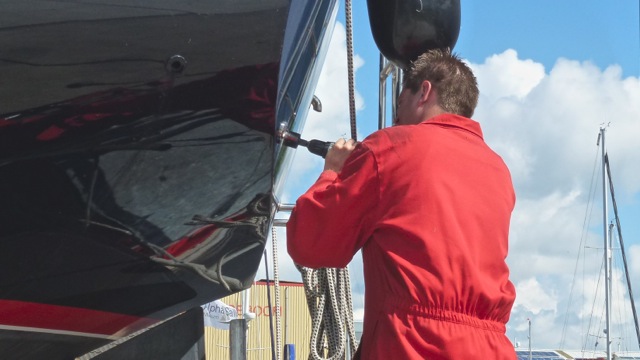 Tuesday morning, Jurgen arrived at the boat saying "are you guys ready to take the boat out of the water???" We just voke up after a very wet footballs night at our "Bar" Cafe Romano.
What a name, Cafe Romano...... we are in Holland not in Italy. Anyway we were quite tired a had a little "skallebank/tömmermänd" hang over, but Fred jumped up, started the motor and, here we go.....He did it all perfect, very nice "landing" at the dock.
Slowly, slowly Sans Peur entered the dock. Scary, 22 ton hanging there in two " strips", but of course everything went well, Jurgen and Björn knows what they are doing.
Björn cleaned the hull, and Jurgen started to drill holes in the hull, four new ones is what we need. Fred and I changed the name of the home port. Sans Peur came up from the water belonging to Mildam and returned back in the water belonging to Hindeloopen, whis is from now on our home port. We would prefer Makkum as our home port (she was born here) but Hindeloopen is ok, it's still Friesland which has become a very speciel part of Holland in our hearts.
Intallation update; AC in our master cabin is now running, deck wash is working perfectly, the engine has been served and runs smoothly, all new the instruments are installed and works, the generator is working but it seems to be some trouble with the generator connected to Mr Perkins. Marco has been looking a bit worried today. We will se what's happening tomorrow.
The Bleeker guys, producers of stainless steel stuff are very efficent. Fred and Mr Bleeker talk a little bit about some construction that need to be done and in a short while they are back with what you needed.
Davits is now mounted in the back an they look great. And soon we will add stainless steel to the front where the anchor chain is mounted. Aluminium is tro weak handling 10 mm steel chain. And a new 33 kg anchor is mounted now. The current old CQR anchor on the boat was just a joke.
The bimini and the spray hood, is a totally crazy story. On off, on off, new changes. Wonder how the guys at de Vries Sails are working? Seems they are more into party tents then serious sailing equipment. And it's very expensive as w
ell. But we badly need the cover.
Freezer still needs to be installed but it's on it's way. Maybe today.

It feels good to be here in Makkum, the people here is so kind and friendly and finally the summer is here. There are a lot of Germans around now spending summer holidays here. We feel ready to move on now.
Today it's time for football again. Germany vs France.
---