Alsace & Vosges 7-9 February

Sans Peur
Grete & Fred Vithen
Sat 7 Feb 2015 21:35
St Jean de Losne, Frankrike




Det är lördag morgon och solen skiner, ganska ovanligt här i St Jean de Losne just nu. Under frukosten beslutar vi oss för att ta hyrbilen och rekonosera i några av de områden vi ska passera när vi börjar vår resa norrut, uppströms, på Soane. Målet är Epinal, som är högsta punkten innan vi börjar slussa ner mot Nancy. Turen till våren med Sans Peur är inte helt klarlagd i detalj ännu men i stort vet vi nu vad vi vill, när och hur.

Vi åker hemifrån mot Mulhouse, över Jurabergen med härliga vintervyer, det är snö överallt, vem kunde tro det? Vinterlandskapet och solen gör att livet känns lättare och sinnet muntrare.

Undervägs till Mulhouse bokar vi rum på ett hotel mitt i stan, gratis parkering (viktigt) även om vår lilla Panda inte tar upp så mycket plats. "Hotellet" är ett litet pang, receptionisten en gammal gubbe, ett riktigt original, som sitter med vintermössan ner över öronen, inget bra tecken, men rummet är varmt och skönt. Mulhouse liknar sig självt, vi promenerar runt i stan i härliga vädret och tittar förbi Port de Plaisance, oj så liten marian är …. vi kommer ihåg den så mycket större från vårt båtbesök 2009.

Nästa dag snöar det. Färden går vidare mot Colmar, på vägen åker vi in till flera helt otroligt vackra gamla små byar och runt omkring oss finns bara vin, vin och åter vin. SÅ mycket vin, trodde inte Alsace var ett så stort vinområde. Ja, vi märker tydligt att vi är i Alsace. Allt står på franska och tyska och vi upplever att det är mer organiserat, ompysslat och husen har mer karaktär än i området Cote d'Or där vi är förtöjda för tillfället. Stor skillnad. Det tyska inflytandet gör sig tydligt påmint i positiv bemärkelse. Den historiska byn Eguisheim var verkligen en liten pärla, så mysig med vackra gamla korsvirkeshus, smala stenlagda gränder och på kyrktornet bodde ett storkpar, som säkert frös ordentligt men var busy med att förberedda för vår och storkungar.

Efter Colmar, Alsace, styr vi nu mot Epinal i Vosges (ett höglandsområde utan vin), och det vill säga att vi ska upp i bergen, upp över passet, Col de la Schlucht (1,139). Vi skulle kanske inte ha lämnat våra snökedjor i vår tidigare hyrbil! Det är riktigt vinterlandskap och det blir bara mer och mer snö men vi njutar och längtar oss tillbaka till Champoluc ...... Skidåkning yes! Högst uppe, vid passet, är det som det vackraste julkort, massor av nysnö på alla träd och granar och småbarn med pulkar och nu ser vi även en lift med några pister. Alla barar och restauranger är öppna!!!! Detta på en söndag?? I frankrike är allt bommat på söndagar så det gäller att proviantera om man inte vet om detta. Fred var glad då vi nådde toppen, lite högre upp och vi hade nog suttit fast, utan kedjor.

Nu är det nedförsbacke …. fortfarande härliga vinterlandskap. Vi passerar massor av småbyar och på flera ställen säljer man områdets specialiteter, inget som vi tycker känns direkt lockande, kanske det finns något i vårt tycke men eftersom vi inte kan kommunisera så är det hopplöst. Även i Alsaceområdet som är så tyskinfluerat blir fransmännen ofta helt förskräckta om man frågor om dom pratar tyska??!! Vi köper lite lokal skinka och självklart ska Fred köpe en ost, Munster.

Väl nere och framme i Epinal checkar vi in på ett litet välskött hotel i utkanten av staden. Inga restauranger är öppna så tur är det att vi är "vana fransmän nu" och har med vår egen "söndagsmiddag".

Jag öppnar vår lilla matkorg och hållar nästan på att dö!! Vad är detta!! Det luktar surströmming, nä nästan värre, herregud det är Freds lokala ost som faktiskt ser helt normal ut men luktar fruktansvärt. Ut på fönsterbrädan fort som fan …. Den smakade ganska ok, bara Fred åt,men lukten var faktiskt riktigt vidrig. Nytt rekord.

Epinal, floden Moselle och kanal des Vosges. Trevlig liten välutrustad "Marina" och billigt, bara 6 Euro med vatten och el, Capitanarie är väl utrustat med duschar, trevlig restaurant och bar. Bådar gott. Blir trevligt att spendera några dagar här när vi kommer hit med Sans Peur.

Vi sparar promenaden i den gamla historiska delen tills vi kommer tillbaka hit. Vi fortsätter hemåt mot Losne och besöker Corre, Savoyeux, Gray, Pontallier och Auxonne, städer och byar vi kommer att passera på vägen upp.

Växlande väder, växlande områden, trevligt. Nu är vi hemma igen och med Sans Peru är det bara bra, skönt.

Självklart köpte vi en del Alsacevin på vägen, så en liten vinprovning blev det då vi kom hem. Riktigt gott. En röd Pinot Noir slank med, som för oss är något nytt. Den kommer nog att funka bra tillsammans torskfile.

Allt i allt, tre trevliga dagar med härliga upplevelsar men faktiskt så är vi riktigt glada att vara hemma igen på Sans Peur, det är verkligen att vara hemma, känns bra.

Klokare blev vi också. Väder, vattenstånd, strömmar, kanalens öppethållande …. Vädret växlar snabbt här, vinter och minus på natten och solig livsbejakande vår på eftermiddagen. Och nu är dagarna äntligen längre.

Realistiskt räknar vi med nu att kasta loss runt 1 april.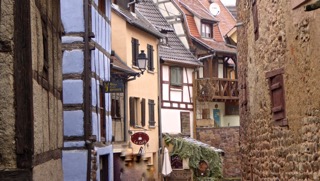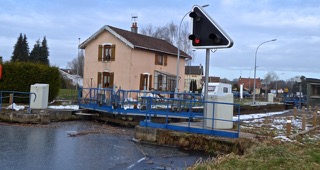 St Jean de Losne, France
It's Saturday morning and the sun is shining, quite rare here in St Jean de Losne right now. During breakfast we decide to take our rental car and visit some of the areas which we will pass during our journey, upstream, on river Soane. One is Epinal, which is the highest point before we start our journey towards Nancy. Basically we now know what we want, when and how.
First a visit to Mulhouse, passing the Jura mountains, beautiful winter views, snow everywhere. Sun and snow makes a truly Scandinavian happy.
First night in Mulhouse, hotel in the town center, free parking (important) though our little Panda does not take up so much space. Glorious weather, a stroll and a visit to Port de Plaisance, oh so small .... in our minds it was much bigger.
Next morning, snow. Our journey continues towards Colmar, we pass through old villages and wine is just about everywhere. Alsace is a serious wine growing region. Alsace, French but very German influenced in a good way. Big difference. The historic village of Eguisheim was truly a little gem, beautiful old houses, narrow cobbled alleys, on top of the church tower lived a stork family, busy preparing for spring.
Leaving Colmar, Alsace, we are heading for Epinal in Vosges (a highland area without wine) through the pass, Col de la Schlucht (altitude 1.139 m). It's a bright winter wonderland da. The higher we get the snow there are. At the top it looks like a beautiful Christmas card, lots of snow and happy children skiing. All bars and restaurants are open!! On a Sunday?? In France, normally basically everything is closed on Sundays.
Fred very happy reaching the top, a bit more altitude and probably we would have been stuck in the snow.
From now it's downhill .... beautiful winter landscape, passing small villages where they offer local produced specialities, like smoked meet, cheeses .... Adding some local smoked ham and a special Munster cheese for our Sunday picnic dinner. I think the correct word will be Monster cheese for us, hell it smells like shit …. no even worse like rutten fish. Taste is ok, but there are plenty of better tasting cheeses around in this cheesy country. Out the window it went.
Once down, in Epinal, we check in at a small well run hotel at the outskirts of the small town. No restaurants are open, as usual, lucky buy now we are "accustomed" Frenchmen now and have prepared for our Sunday picnic dinner in the room.
Epinal, Moselle river and canal des Vosges. Nice well equipped little "Marina", only 6 Euros including water and electricity, Capitanarie is with showers, nice restaurant and bar. We will spend a few days here when we return with Sans Peur.
Monday, continuing towards home, St Jean de Losne, and along the path where we will "sail" soon we visit Corre, Savoyeux, Gray, Pontallier and Auxonne, towns and villages we will pass on the way upstream.
Different weather, different culturel areas, … there is a lot to take in. That's a lot of to take in, but that's the way we like it. Nice.
Home again, "home sweet home", everything is ok onboard Sans Peur. Yes we really enjoy staying onboard.
And of course we bought some nice Alsace wines. All in all, three really nice days,
We are a bit wiser. Weather, water levels, currents, channel opening hours .... The weather seems to changes very quickly here. Now it's much warmer during the day and lighter but the nights are still freezing cold.
We expect and plan to cast off around April 1st.
---