Puerto del Rosario, Fuerteventura - Marina Rubicon, Lanzarote 24 Nm - Very rough & tough - Hitting a "monster" wave

Sans Peur
Grete & Fred Vithen
Thu 9 Nov 2017 17:58
Puerto del Rosario, at anchor 9-10 November  28 29 18N 13 51 38W 
Jamon Serrano. Yes!!!
Our original plan was to make a day sail to Corralejo on the North tip of Fuerteventura.
In this weather; 35-40 knots of wind, in the nose of course, big waves and swell, most probably also negativ current ... it was not an safe option.
Change of plans. Instead we choose to fight our way to the Southern tip of Lanzarote, adding another hour.
Marina Rubicon seemed to be a better and safer option. And it was. We didn't have any reservation but by using VHF we got confirmation that they had space for us ...
and that the weather conditions in the marina was fine.
Using Mr Perkins and our smallest sail, the cutter 20 m2, as a stabilizer  we managed to make progress through the strait.
Suddenly there was a big bang and next thing water came from above hitting the deck, deck house, bimini, solar panel and our dinghy (in the back). 
There was a lot of water. First time actually we got some water in our cock pit.
Our heavy aluminium hatches leading into the "lazaretto" in the very aft are never water proof sealed just locked. 
In the marina we found out that plenty of salt water found it's way into this compartment. 
You never stop learning from your never ending mistakes.
No damages anywhere on the boat ... just a bit of cleaning and drying out.
Originally we planned to stay in Marina Lanzarote. Did not happen. 
Instead we choose to stay in Marina Rubicon for 8 days and explore this interesting island by bike and rental car.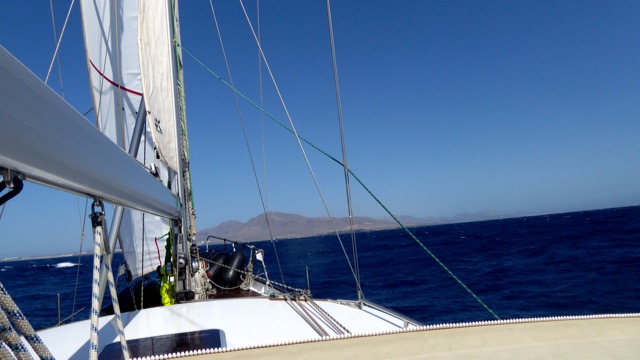 Finally approaching Lanzarote, Marina Rubicon. Guess we was happy. 28 51 25N 13 48 54W
Next time we leave the marina it will be with the wind for the next 3000 Nm. Basta.
​


​

---