Bye bye Rhodes

Sans Peur
Grete & Fred Vithen
Sun 9 Oct 2022 04:55
Chalki at anchor  36 13 41N 27 37 00E
Bye bye Rhodes!!
This morning we left Rhodes Marina. 
We arrived 13th of Septemper and we had a very good spot. It was good to be back! 
Old Rhodos Town is very speciel. Early Sunday mornings in Old Town is so beautiful.
We were supposed to go to Mamaris to renew our UV on the sails. We were in contact with Baris (UK Sails, and an agent) but the agent could see that we never cleared out of Turkey. 
That was in 2016!! Long story short, they keept us for one day to clear out, so in the end we just left. 
So going to Turkey is not the best options for us. The boat is still there? Could be BIG fines, so why risk it??
When here in Rhodos, we changed the blackwater pump, an we sent our sail to a sailmaker to change our UV protection on the sails. 
The sailmaker didn't make a good impression at all. But sadly we had no choise but to use him. Four days turned out to be thirteen days!!! and because of that we missed a weather window!
The sail came back, not with the right UV color!! And on top of that it was 1000 Euros more then the equation from Baris UK sails Marmaris.
Anyway, now we are on our way to Kriti! Todays sailing was ok and we enjoyed beeing on the sea "sailing" again👍
We are now  again in Chalki, such a beautiful place. 
Tomorrow we continue to Karpathos hoping to reach Crete before the winds will pick up again.
Changing black water pump. Works like a dream now. No noise.
A new "fall box" from Selden had to be installed. It was send from Sweden. Thank you for your help Hampus.
We made a flag banner of the courtesy flags we had. 44 al in all. But we have visited 52 "countries" during our 8,5 year circumnavigation.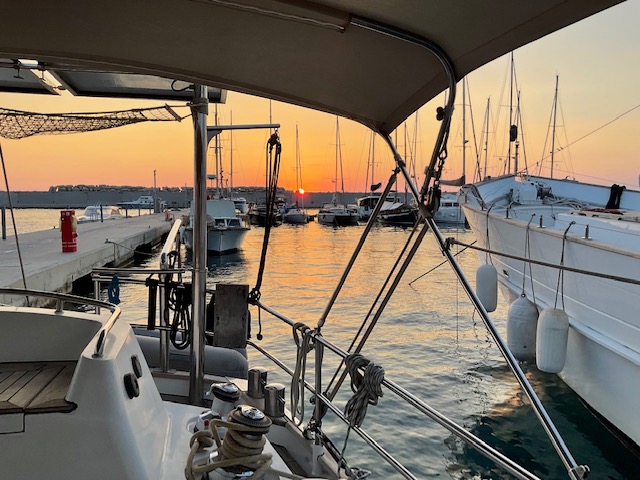 ---