Water Maker installed - Echo Tec. Water makers, made in Trinidad & designed by Michael Bauza, a German (also owner)

Sans Peur
Grete & Fred Vithen
Tue 20 Feb 2018 08:31
Trinidad, Chaguaramas, Peake Marina 19-24 Feb
ECHOTec Watermaker 260-DML-1  24V  Desalination system - Capacity: ca 50-60 liters/hour 
WATER MAKER - One of  the most the importent items to  install if you would like to sail unlimited and live your dream.
And you need one that you can rely on.
Our first visit to Echo-Marine, Thursday 15th Feb.
 
Experienced long term sailors has been recommending Echo Tec. Made in Trinidad. Designed by Michael Bauza, owner and designer.

Their manufacturing site is at Chaguaramas.
After visiting them we came to the conclusion that a 24 V system would serve us best. Connected directly to our batteries.
Which means that we have two options to generate power while running the water maker, generator or motor. 
260-DML-1 is making 50-60 liters of water per hour. Power needed, 18 Amps. 
​We also wanted them to do and supervise the whole installation. 
What we learned is that most water makers fail due to bad installations. 
That was the main reason why we went to Trinidad in the first place to meet the manufacturer
and get them to do and supervise the installation work. 
But first we needed to know wether it was possible to fit in all this new gear. There is always lack of space as you know.
At this point we where buoyed in Chaguaramas bay. Two friendly guys came onboard after we picked them up with dinghy at Peake.
That was later in the afternoon same day as our first visit to Echo-Marine. 
This first inspection and valuation of the possibilities was free of charge.
In addition to the DML-260-1 system we choose a Boost pump, a Low pressure gauge and a Fresh water flush kit and we got a free upgrade to Duplex steel in all connections.
This came to 4.486 Euros. No tax at all has to be paid. Nice!
So now 2 new holes needed to be drilled in the hull. Means we need to haul out. Monday 19th at 8 we hauled out at Peake Marina.
299 USD (haul out & lift in) + 23 USD (Chocking Rental) inkluding 6 days on the hard. Not to bad. And done in a very easy and professional way.
We like that. Sometime it can be a night mare to get the boat out of the water like in Lagos for instance.
They technician from Echo-Marine came on Tuesday morning.
Echo-Marine do not drill holes in the hull. So we fixed that using a 25 mm drill. In no time we drilled through 8 mm aluminium.
The Thru-Hull fittings was made of Marelon and we used 3M 5220​ Fast-Cure (24 hours) Sealant.
​Ball-Valves, also Marelon, was fitted and the Boost pump mounted under the floor board next to the bathroom.
We had to buy and supply these items. There is a well supplied Budget Marina shop in the neighbourhood. 
This was the place where a washing machine used to live in one of our bathrooms.
4 filters, control panel, high pressure pump has to be fitted there.
The trickiest part was to find space for the membrane, it's a long tube. 
​They managed to just squeeze it in.
Later, during the hurricane season when we are on the hard we will close this space up and make it look nice and tidy.
It took some time to figure out how to connect the water maker to our water tank. We where not to happy about the solution to drill a new hole in the aluminium tank.
We came to the conclusion that we could use the hose dedicated as a breather for the tank. We had to find, buy and supply this fitting. This time we would the requested 
item at Peake Marina chandlery shop.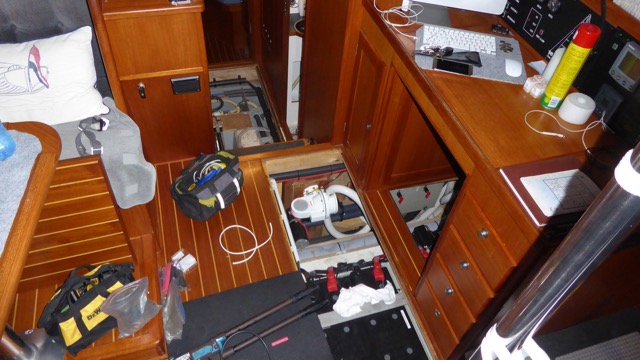 ​This is day 3, Thursday. In the afternoon the electrician finally came. We thought this was going to be done by staff from Echo-Marine. But NO.
It worked out fine in the end. Control panel was connected to our service batteries and a 50 Amp fuse installed.
He was efficient and skilled. We paid him on the spot. DONE!

​Friday at 14 we want into the water again. The installation was reviewed and filters installed.
Show time. Everything was working. After a few minutes we where tasting new made water.
In 4 days we got a water installed.
The total cost came to 5.850 Euros.
Now we will head North and use the water maker. In June we will be back again in Trinidad. 
Good to now if there will be any for the moment unknown issues.
Hello Fred,
It is recommended that the watermaker have a dedicated 19mm intake thru hull. If one is not available, it can be installed the next time the boat is hauled out. If you wish to have it done in Chaguaramas, you will need to schedule it at one of the marinas (Peake Yacht Services, Power Boats, Coral Cove)
Installation is available at US$ 60 per hour and a typical job takes 16-24 hours, depending on the scope of work.
It is standard procedure for the Production Manager to review all installations and commission the watermaker.
When the commissioning is complete, customers are brought to our office by the technician to settle the invoice for the installation costs, pick up any extra spare parts needed and then taken back to the marina.
The estimated time frame for a typical installation is 16-24 hours. Including the time taken today to complete the plumbing, the entire job will be done within the stipulated time frame. Apart from the hours spent working on-board, a significant amount of time is also required in-house for fabrication of customized pieces, which is not reflected on the final invoice.
You can let us know once the boat is in the water and we will arrange to come over to commission the system.
Best regards,   
Darryl Ramdhanie
Sales Engineer
ECHOTec. Watermakers
​
---