Maupiti - A challenge to enter

Sans Peur
Grete & Fred Vithen
Wed 26 Jun 2019 07:30
Maupiti, at anchor  16 26 83S 152 14 75W
We arrived to Maupiti after a calm day of sailing, 33 Nm. The entrance through the reef looked scary.
Rough big waves and a very narrow passage. On top of that there was a quite nasty current running towards us. You are only aloud to enter during day light.
We managed to enter the lagoon which was very shallow throughout but the draught of Sans Peur is not very deep so we got in without any problems. 
It stated that there would be buoys for mooring but we couldn't find any so we anchored instead.
We arrived to a nice, quiet but very tidy area of the island and it always surprises us how green and lush these small islands are. We went for a walk along the road to see if we could find the pearl farm/shop that mom and dad has visited last time they were here, 2013. It was quite a long walk but it was nice to move a little but unfortunately the house where the shop used to be was empty. 
We started to walk back and saw another place called Artisans and turns out that they bought everything from the other place before they left and they started their little pearl business. What are the odds!? Mom and I (Sara) had our black pearl bracelets with us as they both broke and needed fixing and asked them if they could fix them for us. They happily helped out and they could be picked up tomorrow, perfect! I (Sara) also got a beautiful neckless which was very special made with some kind of sea urchin spikes and a black pearl. 
We were on hunt for some more groceries like lime juice and potatoes but it seems to be impossible to find in their local shops "magasine" and most of them where closed. I think they might close when they are out of stock. We did however find beer which is always nice after a long walk in the sun. So our last Polynesian money we spent was on expensive local beers. 
Everyone are very friendly and greets us when they pass by, one guy even helped us to get some mangos of the tree by the church (pallade Mango as we would say in Swedish). We did ask who the owner was and he just said do you want some? It was perfect and he definitely had done this before because it looked like child play for him. But we never say no to free fruit, just like the passion fruits. The mangos turned out perfect later. Yummy!
One of the days here we also lost dad for a while as he went to speak to some locals to buy some bananas for the longer journey that we have ahead of us (three nights to Cook Islands). 
We managed to reunite with dad and he managed to get a good size for a fair price. Good on him!
The weather was unfortunately not always on our side so we didn't swim very much in the water even though it was only 6 meters where we were staying but we did take the dingy to the other side to have a bit of a walk by the shoreline. It was nice and quiet, some random houses but not a lot of action going on here. Alex and I went to the other side of the island through the coconut plantation. It was an interesting walk were you were quite close to the reef, saw the most strangest thing; loads of dead crabs perfectly placed on the rocky ground. 
We decided to move with the boat closer to a sight called the Manta Point and stayed the night.
In the morning we saw some boats around the area and decided to go and have a look with our snorkling gear. Incredible sight to see the mantas around there, dad had a close encounter with one resulting in them almost coming eye to eye. We saw 2 big ones at this sight and another big one at another spot. They are such beautiful creatures and we noticed one thing that we never seen before - that they can curl and uncurl their horn like extensions. They were so calm and comfortable in these areas, they just stayed at one spot, against the current, and took it easy. 
We did a morning session and an afternoon session where we saw 1 big one at the same spot - it was nice because Alex and I were completely alone with the giant. Great experience! 
Sara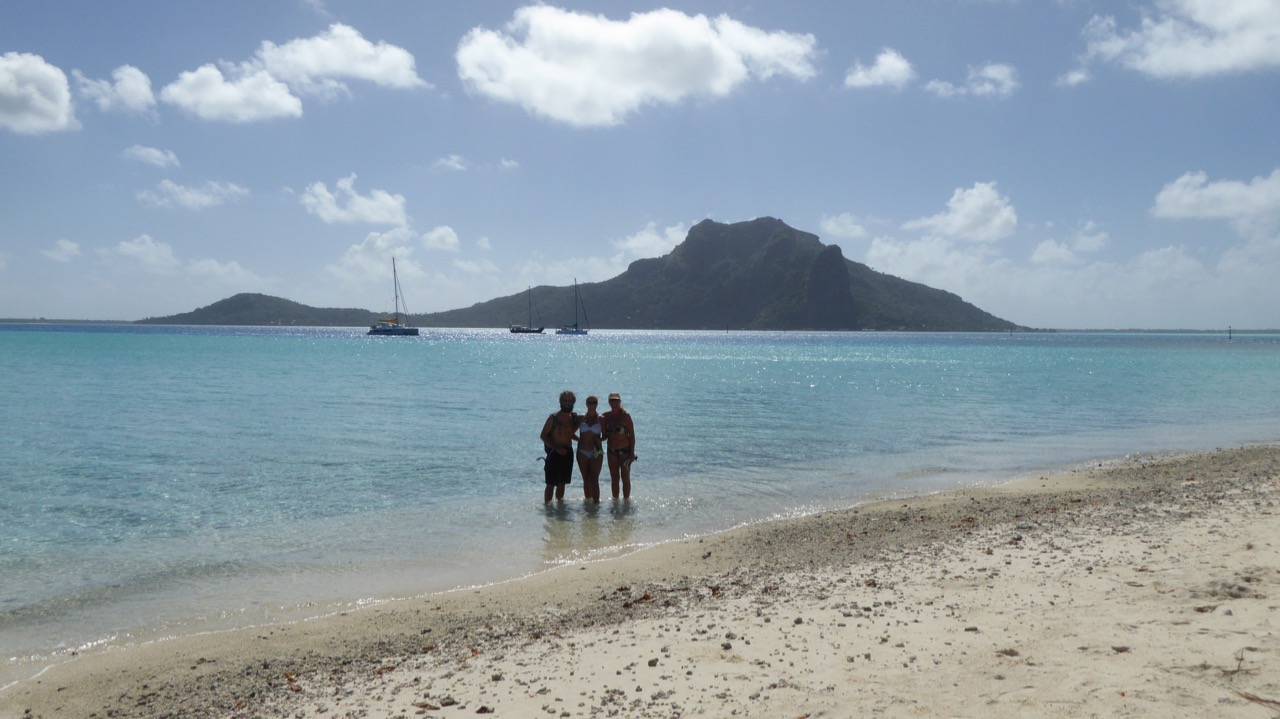 ---