Jubileum! We have been living on Sans peur one year now - Würzburg

Sans Peur
Grete & Fred Vithen
Fri 1 May 2015 09:39
Idag är det jubileum.....
Ett- årsdagen för inflyttning på Sans Peur i Hindeloopen!
Känns lite konstigt. Ett år har bara flygit iväg. Ja ok, vintern i St Jean de Losne var nu den längsta vintern på länge för oss.
Det var SÅ spännande, vi trivdes direkt, ja Hindeloopen och Makkum kommer vi alltid att minnas.
Ett händelsrikt år, Sans Peur har varit vårt hem och vi har verkligen kommit att älska vår säkre, otroligt fantastiska båt.
Fred och Sans Peur känner sig nu trygga med varandra, det gäller att ha respekt, och självklart tar det tid att lära känna varandra, ett mycket bra team och med första matrosen G så går allt som foot i handska..
Ja då är vi här i Wurstburg, vi ligger i marinan Bootsservice Wurstburg, vi är besökande båt nr två i år. På lördag går det vidare mot Bamberg, det är där Kanal Main- Donau tar vid och efter 167 km kommer vi till Kelheim där mast och boom ligger och vänter på oss.
Strax innan Wurstburg stannade vi till vid ett stort supermarket, kunde inte bli bättre vi la till bara 50 m från entreen. Vi bunkrade upp med allt mat, öl och vin (Frankenvin är riktigt gott).
Just nu är det regnigt och blåsigt ute men vi sitter varmt och gott inne i däckhouse och njutar av god musik och Frankenvin hann precis med att grilla lite innan regnet kom.
Imorgon blir det sightseeing och hitta något ställe med WiFi.



Wurstburg. We will stay here two days. Tomorrow, 1 May, everything will be closed.


Festung Marienberg


We will moore in Bootservice Wurstburg just after the bridge. Good location and all facilities.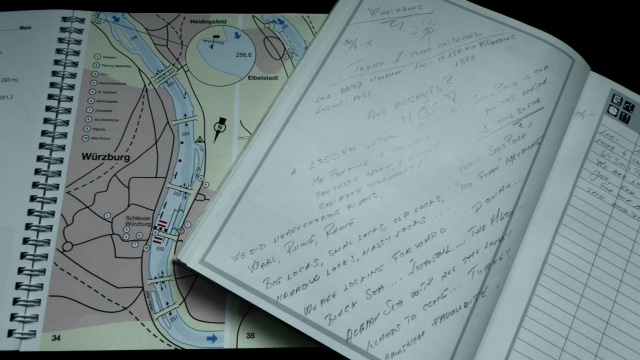 First of May last year we mooved onboard Sans Peur in Hindeloopen, NL.
Together we have "sailed" 1350 NM by now. Rivers, canals ... huge locks, narrow locks, old nasty
locks (so far 443).
Sans Peur is the perfect match for us so far. And we are really looking forward to Black Sea where Sans Peur will transform into a sailing boat again.
The mast is waiting now in Kelheim where we will put it on deck.
5 of May the Main Donau Kanal will open from Bamberg. Around the 10:th of May we will be in
Kelheim, Donau.
---