Kalamata - Repair works in progress

Sans Peur
Grete & Fred Vithen
Tue 26 Jul 2016 17:58
37:01.44N 22:06.35E Marina Kalamata 25 July 
There was only 6 Nm to go. This is Monday morning.
Very friendly and helpful staff at the marina.
Yes we got some serious problem because of that bloody rope. But we are soon back on track. 
We learned that we have a very sturdy combination; propeller, shaft, pent seal, PRM gearbox and at the end Mr Perkins.
And the safety valves in this case was the mountings and the "disc". 
Of course there was frustration and some money involved ... but not a disaster.  
This is the kind of people you need to know (recommended by the Marina office).
In no time, the same day, they where on to the problem. Having very skilled tunes to the problem.
Vibrations, noise, ...
There was a lot of bult to be unskrewed to part shaft, gear box and engine to get to the problem.
The heat this day was almost unbearable, and still these lovely guys took on the heavy work of dismanteling some heavy parts of Mr Perkins in very close corners.
We where struggling withh the heat and they where struggling in the engine room.
Thank you guys, wonderful job! 
Gear box went off.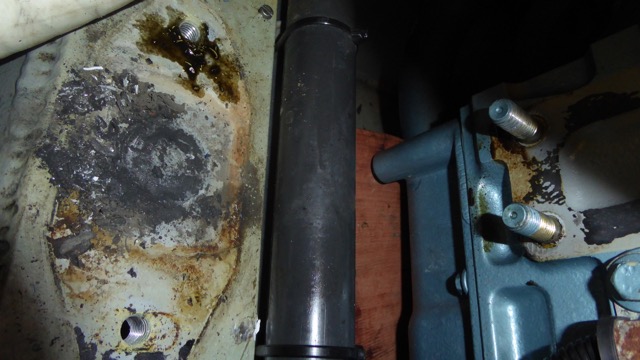 This was the first engine mount to be replaced. Incredible hard to get off.
Propeller shaft has to be dismateled.
This is the sofisticated connection between motor and gearbox. It's hard to understand the level of engineering. 
And it was a bit damaged. 
Mr Perkins is incredible strong at slow reps ... normally very good but not when tangled in ropes. To much torch.
Someting has to break, in this case not the rope. But this safety valve between engine and gear box. 
550 Euro to replace (plus work).
Two of those was also broke, engine mounts (70 Euros a piece). We will replace all four of them.
This is a PRM very sturdy gear box. It didn't break. Other lighter ones does.
​
​

---