Biking around in Paris on a very sunny day.......

Sans Peur
Grete & Fred Vithen
Sun 19 Oct 2014 16:45
Yes, it was a fantastic day! From our mooring at the Seine we took our bikes and went for an excurtion through Paris. Our goal was Port de Arsenal. Twelve kilometers to go and good for us we have our IPad with us.
We biked througt a diffrent kind of Paris, not really the "tourist" parts, and it's good to experiense that to.
Via Montmatre, up stairs and down stairs, on bike and on foot, very close to Sacre Caeur, nice atmosphere, summer life, the temp was up to 24 degrees, we rember last time we were here together with Karolina and Sara around twenty years ago.
Suddenly we were at the Bastille and Port de Arsenal, lots of people sitting everywhere enjoing the beautiful sunny weather.
We had a chat with the habour master and we now know where we are going to moore tomorrow. Alongside Marco Polo, feels good to know and the habour master was really nice and helpful.
So how are we going to find our way back? Luckily we got a quite good map an together with that and the IPad we managed to find our way home. Paris is a BIG city but now we are home safe on Sans Peur and having a nice glas of vine, Cremant D'Alsace, very nice and it helps us to releave the pain in our, not use to bike so far, butts.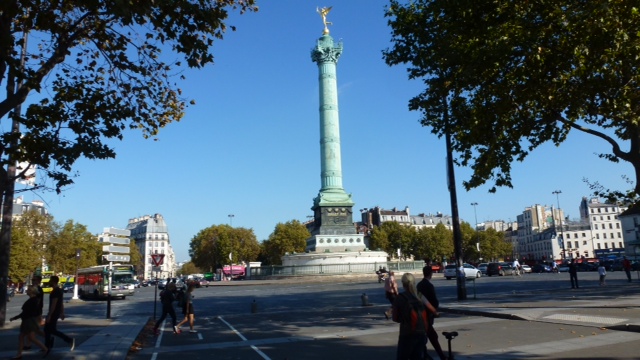 Bastille




Very nice atmosphere in Montmartre




Place de la Republique




A glint of Sacre Caeur
---