Time to explore Sicily - Palermo & Marsala

Sans Peur
Grete & Fred Vithen
Tue 13 Dec 2016 12:59
Marsala wine.
Closely realated to Sherry from Spain and Port from Portugal.
All are alcohol fortified wines and originally mostly exported to UK.
As aperitifs, excellent together with tasty cheese and works well together with sweets.
You will find dry, semi dry/sweet and sweet. 
And as always with all kind of wines you have the inexpensive stuff and the very expensive ones.
We tested, we think some fancy ones ... we stick with the dry ones ... but not at 35 Euros a bottle.
Dry Marsala with fresh oven baked chestnuts. Delicious.
At the local market we by chestnuts.
This is on the way from Licata to Marsala. 
Greeks, Romans, .... so many different people from different civilisations has been here over the last 3000 years. 
Driving in Sicily is a challenge and an adventure it's self. No rules what so ever.
Even worse then Greece.
Basically every car has a dent and some scratches here and there. 
Speeding ... all the time every where ... 50 they drive +100. 
Stop sign ... really ... what is that.
Big car ... I rule ... get out of my way ... tuuut tuuuut.
Old small ancient Fiat ... be careful this might be dangerous ... old men inside ... know anything can happen.
All blinkers on, Hazard, know you park and stop where it pleases you.
Blinker ... is that really necessary?
On top of that the roads are a mishmash, some ok, some disastrous, some winding like snakes, some wide and nice and then super narrow.
Road works all over the whole island.
When it rains then it gets really tricky. It's not supposed to rain on this island. But when it does everything is flooded.
Light lunch at the seafront, sitting outside enjoying the sun and the views, in Marsala. Summer is here again. 
Dry old tasty Marsala, very much like a Fino sherry.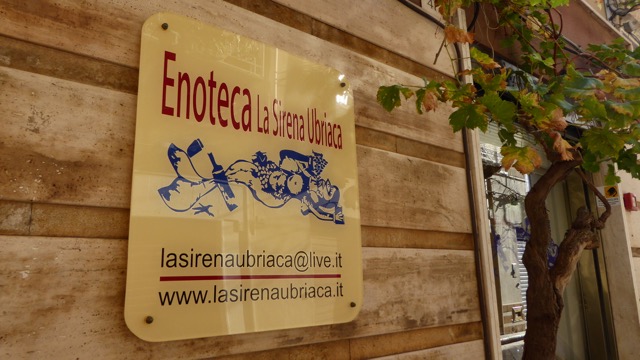 Here we got a bit educated, again. It never stops. 
Historical part of Marsala.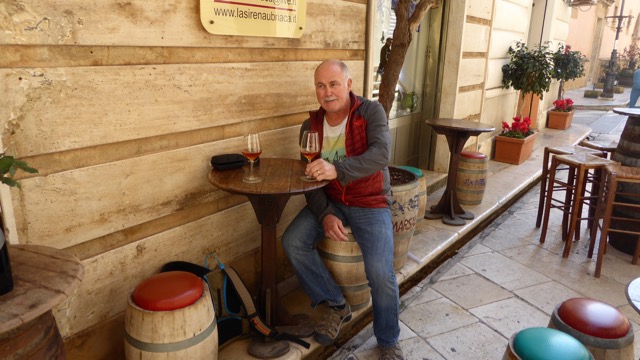 This goes very well together with Marsala wine.
They called it "Tapas" (like in Spain). It's actually a mix of different spreads made of; tuna, lime, chili, anchovies, onion, pistachios, almonds ... (no olives or cheese, a bit strange).
Combinations of salt/sweet and "hot" spices.
Palermo, the capital of Sicily. This is right in the middle, and also the historical center.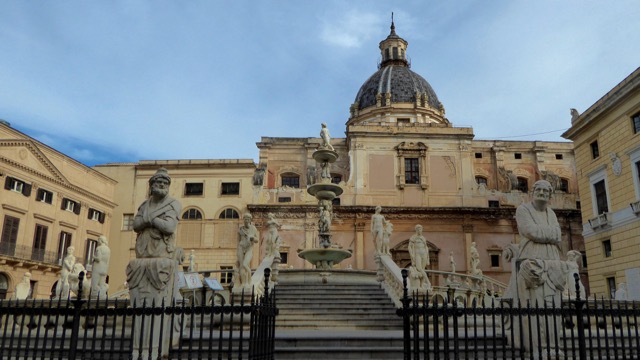 Natale, Christmas. All these Christmas decorations.
A strange sculpture in front of the Cathedral.
This is december and today it's flipflop weather.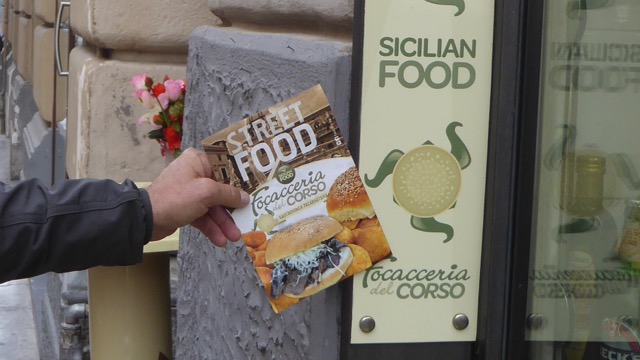 Food and wine in Sicily.
Plenty of very good reasonable priced red wines to find (much much better then in Greece). 
We haven't found any particular good white wine yet but we are Prosecco lovers (sparkling white). 
Which we are sipping at Happy Hour together with snacks for the price of 2 Euros (a big glass).
When it comes to food we are still exploring. 
Home made pesto is a big hit, fresh bread from the local bakery in the morning (0,3 E), soup of Cozze (clam chowder) at Taverna Duca - what a treat, salzicia parmesan cheese, 
parma ham, 
salsiccia with
herbs
by the meter (perfect BBQ food) .
.. but there is still a lot more to try and discover.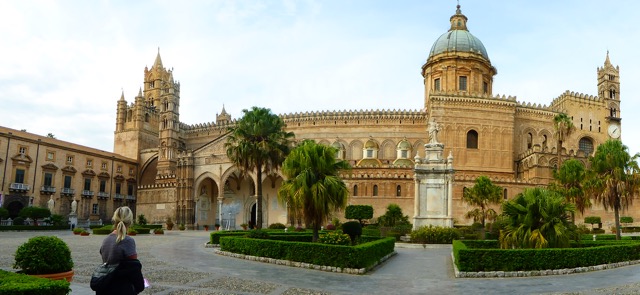 The beautiful and impressive Cattedrale in Palermo.
​
---