Leaving Sarköy, Sea of Marmara entering The Dardanelles

Sans Peur
Grete & Fred Vithen
Sat 25 Jul 2015 10:56
40 21 08N 26 41 31E Lapseki, another fishing harbour
25 July. We leave from Sarköy at sunrise, about 6 o'clock, calm waters, cool and clear skies, just perfect. Leaving the port in silence and without any problems.
Everything just works as it should. Today we will cover 26 Nm, entering very busy straights of The Dardanelles. Having AIS and Navionics on a big plotter (our 26 inch iMac) 
is a great help to calculate your route. 
There are cargo ships, ferries, pilot boats, ... a lot of action.
We travel at 1400 rpm doing about 6 knots, some current adds a bit of speed.
Around 11 we approach Lapeski and manage to moore, in quite shallow waters, alongside a small fishing boat (half the size our boat) with help from local fishermen.
Thank you, again!
Then we take the ferry from Minor Asia to Europe crossing Dardanelles (about 3,5 Nm) to Gelibolu.
And now we have enjoyed a cold EFES beer, a BBQ lunch and sipping a Yeni Raki (and of course there is internet).
After strong Meltemi wind lost it's strength the fishermen prepare to take off again. 
Mustafa, a very friendly and helpful harbourmaster in Sarköy, playing with his daughter.
Close to the entrance of The Dardanelles.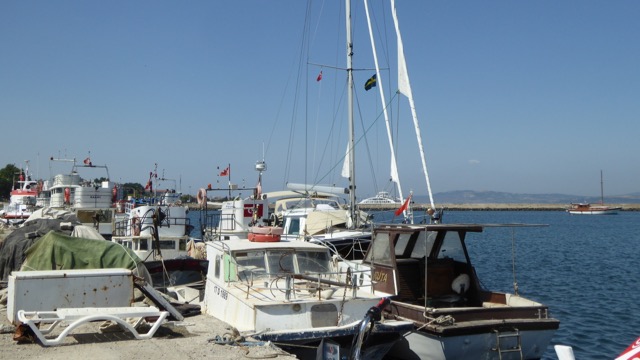 Lapseki, fishing harbour
This is where we are just now, Geliboulu.
Still sipping raki. 
​ 
---