Meteora - UNESCO world heritage

Sans Peur
Grete & Fred Vithen
Sat 3 Sep 2016 15:10
38 57 40N 20 45 31E Preveza 1 Sept
Wikipedia
The Metéora, literally "middle of the sky", "suspended in the air" or "in the heavens above" 
- is a formation of immense monolithic pillars and hills like huge rounded boulders which dominate the local area.
It is also associated with one of the largest and most precipitously built complexes of Eastern Orthodox monasteries in Greece. 
The six remaining monasteries are built on natural sandstone rock pillars in central Greece.
Metéora is included on the UNESCO World Heritage.

​

We moored at the Town Quay of Prevaza and then S/Y Engla with skipper Kess and his first mate Anne arrived and settles next to us. 
We first met this Swedish couple in Mesalongion and then on the island Ithaca. Nice reunion .

Together we decide to rent a car and go exploring Meteora. One of the ten "must see" in Greece. 
We plan our route on my Ipad and unfortunately we forget to tic the toll roads option in settings, no toll roads setting remains from our stay in France/Italy. This means we end up on a very scenic hilly curvy slow road with an incredible amount of bends. It took us more than six hours to get there, driving only 225 km. It was a very different high altitude Greece we passed through, but it was a very pleasant new experience.
Lunch break was a bit different as well. Felt like we were in in the Alps, country western music played in the background and skislopes around the corner.Really?! The temperature was very comfortable as well, almost a bit chilly and we are wearing shorts and flip flops of course.
We reach Meteora at 4 pm and we are just in time to visit one of the monasterys, Holy Monastery of the Great Meteoro.
What a very speciel place.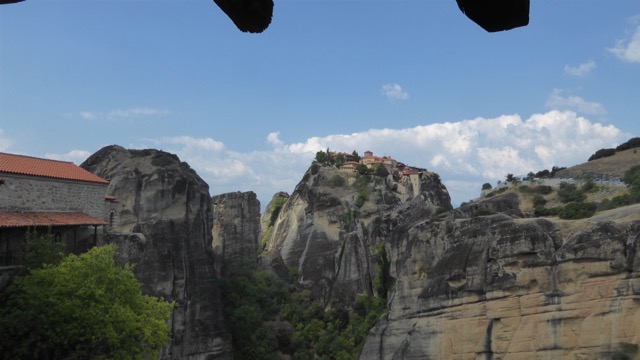 "The Meteora Monasteries
Serene, spiritual, magical, mystical, extraordinary, breathtaking, immense, inspiring, impressive. These are only some of the words people very often use in an effort to describe the Meteora phenomenon.
The gigantic rocks of Meteora are perched above the town of Kalambaka, at a maximum height of 400 m (1200 ft). The most interesting summits are decorated with historical monasteries, included in the World Heritage List of Unesco. Only 6 of them have made it through the centuries, from an initial estimated number of 24. Mostly dating to the 14th and until the 16th century, these monasteries were built by monks who were previously hermits in the area, living in individual caves. Once united, these monks took months and years to carry the construction material to the top of rocks, using ropes, folding ladders, nets and baskets, and with much determination."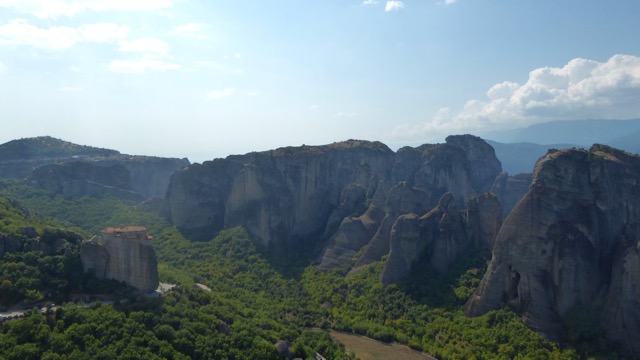 ​
---