Patmos - Some photos from Chora

Sans Peur
Grete & Fred Vithen
Tue 25 Aug 2015 16:01
We are a
​t ​
Patmos
​ island,​
one of the most
fanciest​
islands i Greece
​, they say. Maybe!? Very beautiful sceneries for sure.​
The Meltemi is angry and will increase tonight
​ (24 August)​
. The
​w​
ind is about
​ blowing at ​
8​
 Beaufort
​ sometimes,​
which means
​you ​
don't 
​want​
​to be ​
out there
​.
Everybody is
​, almost, are seeking shelter. ​
We are happy to be in here
​.​
One sailing boat left in the morning, five young guys and one young girl, we all wisch them well and safe sailing but they are young and tuff
​, probably ​
looking for challenges.
We arrived Friday 21 and planned to stay for three days but because of the Meltemi we
​ decided ​to stay a bit longer, just 
to be safe. 
It's a beautiful island and we have
​had ​
great sailing neighbours, Lydia and Danny, from Italy
​, ​a German couple, Australiens, Italiens, Swiss ... It's a very busy harbour.
​BY ​
scooter we have explored most of the island
​ (it's not that big).​
​At the moment (yesterday) ​
we are
​safe in t​
he deck house,
​having, a 
late
​, ​
small dinner!!!
​ Outside the wind is blowing hard​, making strange 
noices. 
Inside and outside the boat is covered with
​dust.​
​I​
t's going to be quite a job to clean up
​our​
lady.  
It's a
​very ​
good atmosphere here in this small harbour but when the big ships arrive all of us, on small sailing boats are terriferied specielly if it's a boat from Turkey!! 
Sad to say, but they are not good seamen.
​And t
hen of course we have all the
​charter​
 boats
​ ....​
Tomorrow
​it's time to ​
leave
​, ​next island will be
 Ikaria
​. Not to many go there. What we know is that they live extremely long on this particular island. 
Interesting
​.​
That's Cora over there.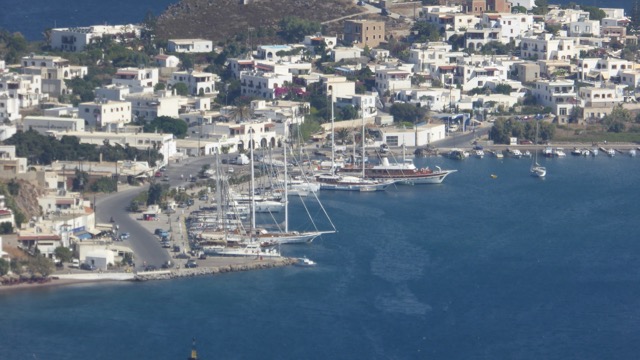 Yes we are moored down there. 
​

---