Stressful beurocracy

Sans Peur
Grete & Fred Vithen
Wed 17 Jun 2015 17:43


Here we are at 2pm on Wed 17th following "Compact" into the huge double lock....310 metres long and 34 metres wide.





We haven't mentioned it much in the blog, but each time we enter and leave a country, we're supposed to check in and check out. But it's rarely easy....sometimes we can't find the appropriate authorities, or somewhere safe to moor. And then there is sometimes a language problem. Mostly these border police and customs officials are ok, but they do seem to enjoy their positions of power. I'm a bit perplexed, because they never come and inspect the boat. Fred disappears into a dark room somewhere, with 3 uniformed officials, the yacht's papers and our passports. He reappears an hour later, usually smiling but looking a bit perplexed, and we leave. Our passports are stamped but they haven't sighted Grete or me?
At this point we were leaving Serbia (for a while) and entering Roumania. Our plan was to moor on the Serbian side overnight and check out with the authorities on Thursday, but try as we might, we could not find a safe place to dock. Eventually we gave up and crossed to the other side of the river. Fred was concerned that we were checking into Roumania without checking out of Serbia, but we had no choice. Here we found helpful people and a safe mooring. After a short delay....it was now 7.30pm and the police team on duty said we had to wait for the next shift to come on at 8 because it would take more than 30 mins to process us! Eventually Fred returned with an official who directed us to his buddy's floating restaurant 800 metres downstream.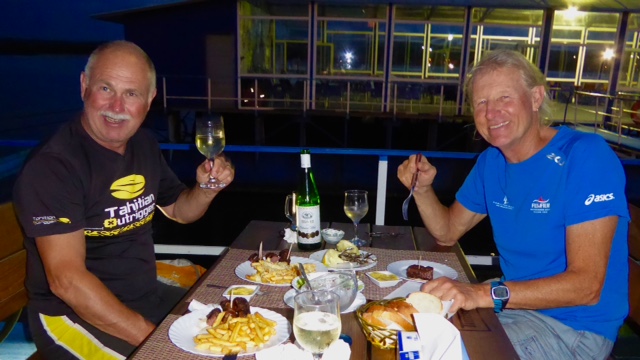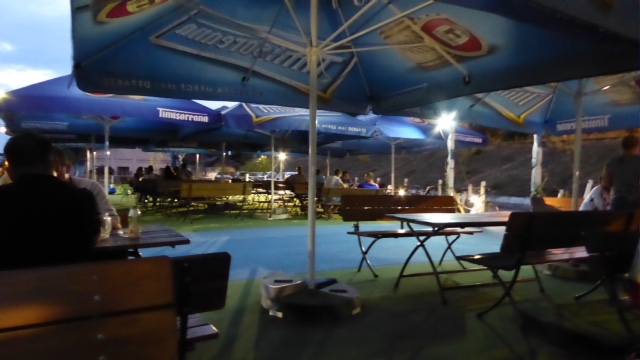 By now we were tired and hungry. Our hosts were great and we had a nice evening after a long day, but the food was...shall we say, interesting.
Sent from my iPad
---