Bad Endorf, Bavaria - Pick up of our new CROMOX Duplex anchor chain

Sans Peur
Grete & Fred Vithen
Mon 23 Mar 2015 10:00
STOP 8 - Bad Endorf, Bavaria, about 100 km:s from Munich towards Austria




This is our last and the most important stop on this 2000 km trip.

In this little German village Ketten Wälder, Chain Technology, is situated making the best and strongest marine anchor chains to be bought.




Our choice is 80 m:s of CROMOX Duplex polished stainless steel chain. DIN 766 and 10 mm thick.

This type of steel is highly resistant against corrosion and very strong compared with regular 10 mm steel chains.

Almost the double strength, 10,4 tons breaking load.

And it is continuously tested during the production.

It will fold like a dream in the anchor box and we will be able to sleep without worries in the future.




We are happy that we went there. Now we feel safe.




So far we installed a new much stronger winch, a Lofrans Falcon, a much bigger 33 kg Rocna anchor and now a safe chain.

Last part will be the new CROMOX twister, specially made and tested for this 10 mm chain, to connect anchor and chain.

It will be delivered later this year.
Mr Schönberger took his time to show us around and also explained the sofisticated process of producing a safe chain.
In this machine the chain is strechted to get the right dimensions and at the same time tested.
In this case it is a 6 mm chain. Working load 3,8 tons. This is done continuously and the results recorded.
Several tests are done; before, during the manufacturing process and after to check the quality of the chain.
Our little Citroen C3 carried 200 kg of chain home to Sans Peur without any trouble at all (wight 2,3 kg/m).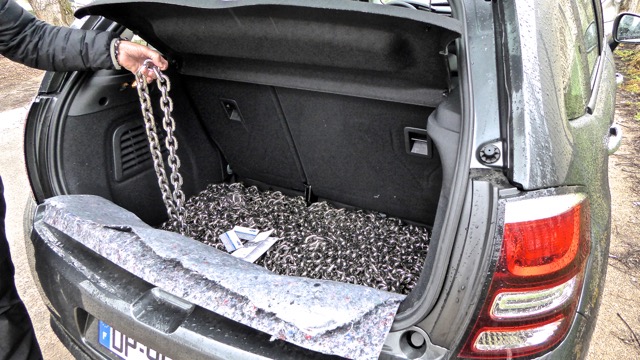 ---