Bamberg

Sans Peur
Grete & Fred Vithen
Tue 5 May 2015 11:00
49 54 33N 10 51 76E

Arriving to Bamberg and the beginning of the Main-Donau Canal was one of our major goals.
Yes, it was such a nice feeling entering the small marina of Bamberg, if you can call it a marina???
The current is very strong but we managed to moore and with, as usual, lots of fenders and ropes we are perfectly ok. We "rock and roll" a little but we are fine and Fred is happy with all our springs.
Today we explored Bamberg, what a beauty, so many old well kept buildings and such a nice atmosphare, we are so happy that we stayed here to enjoy this UNESCO world heritage site.
Bamberg is a university city, which means lots of young people. That is what we feel when we are having a burger and a lokal brewed beer in a nice place, Hofgarten, close to the university.
And their is free WiFi, means checking mails, writhing our blog and managing our bank accounts.
We also managed to plan our route on Der Main-Donau Kanal, 171 km and 16 locks, some of them the highest in Europe, with a lift of 24,7 meters. Thank God there will be Schwimmpolern!
Tomorrow we will moore in Erlangen PK 42. He day after we will reach Nurnberg. On Sunday finallt we will be in Kelheim, Marina Saal at the beginning or River Danube PK 2410, that means down streem in 2410 to Black Sea.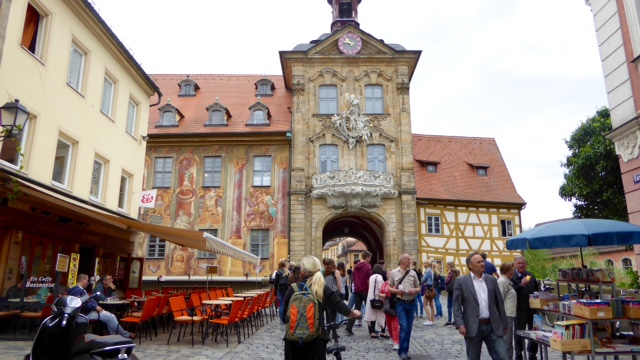 ---