Marina di Cala del Sole, Licata, Sicily - Wintering

Sans Peur
Grete & Fred Vithen
Thu 13 Oct 2016 10:09
37 05 80N 13 56 69E
Tuesday 4th of October late afternoon we reached Licata where we will stay for the winter.
We have been here for about a week now. Times just flies.
Harriet and Gustav have been taking very good care of us as swell as Maria at the office.
Our berth is in a good spot, and comfortable wide ... lot of space.
Thank you!
So far the weather has been nice and sunny. Cool nights and sunny days. Perfect.
View from the castle San Angelo, the highest spot of Licata, and the marina (to the very left).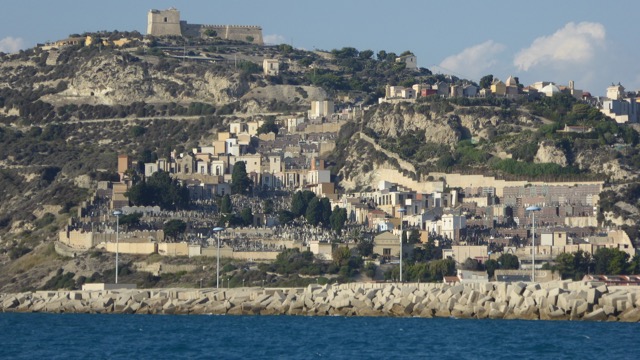 Cimitero Cappuccini. Impressive!
Approaching Licata from the Malta Channel.
As usual there are lot of things to be fixed. Water is supposed to stay outside the boat ...
Some resealing to be done now, when it's nice, cool and dry.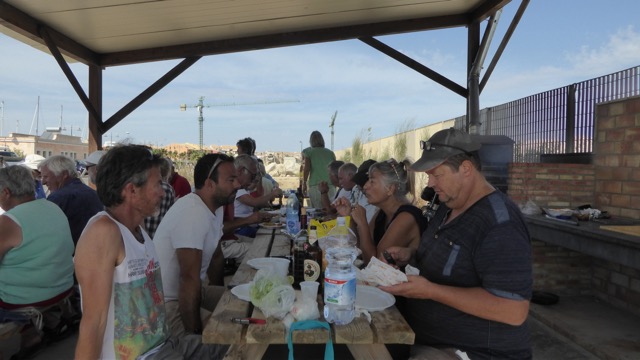 BBQ on Sundays. Almost everybody seemed to be there.
A nice way to get to know our fellow sailor mates.
Gustav and Harriet (from Finand) "invited" for a delicious dinner at La Taverna del Duca.
Speciality steamed mussels. And incredible cheap. There where about 20 of us almost filling up the whole place. 
Mussels, sorbet, espresso & a nice grappa (baric), 1 liter of local white wine and a bottle of Prosecco. 50 Euro!!! (for two)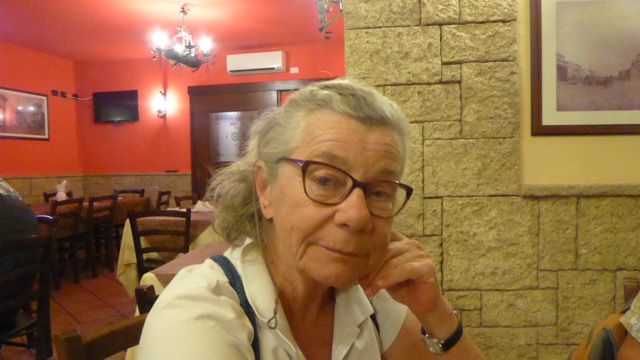 Huge plate with fresh caught mussels cooked in white wine and lemon. Yummy! 
Grete choose some sort of grilled fish. Licata is a genuin fishing harbour. 
We need to learn what is what and where to buy. 
Cimitero Cappuccini. It's looks like a whole city. Very well kept.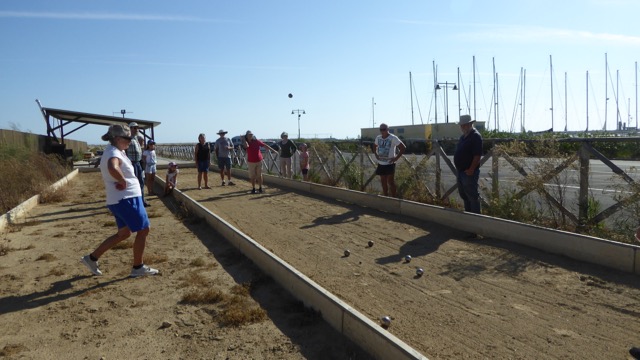 ​Wednesdays at 3 we try to play boule. The French refuse to participate because we are such lousy players,
making disgrace to their "national sport". Some doping (wine) is part of the game.
​This left garbage we found last night in the harbour. After some renovation and paintwork
suddenly we had a well suited well wanted (especially Grete) "passarella". 
No swimming this year. There will be visiters this year. We hope. 
Look at this beauty (not Fred).
Slowly we are starting to settle for the winter. Bikes are unfolded.
Great way to explore our nearest surroundings.
We already found our way to some panetteria (bakeries) and pick up healthy fresh bread in the mornings. 
Lidl is 3 kms away. As always good for a lot of stuff, a bit different products from Greece more Italian style, and there is lot of Italian/Sicilian cheep nice wines.
Sicily is growing a lot of fruit and vegetables. 
We are really looking forward to explore Sicily in the future. It feels like a rental car is a necessity.
Maintenance and further improvements of Sans Peur will also be a part of everyday life. 
Yesterday we made pesto Genovese. Out standing ... 
You need fresh basilica, pinoli (pine nuts), parmesan, garlic, lemon juice, olive oil, black pepper 
... and a mixer.  

​
​
​

​
​
​

---