Trinidad, some pictures - Soon, Monday, we will leave for Grenada - Exciting

Sans Peur
Grete & Fred Vithen
Sat 24 Feb 2018 23:39
We rented a car for a day and did some left side driving. Fortunately it was a Sunday and less traffic on the roads.
We headed for the North East corner of the island. Three hours later we reached our destination, Toca.
Beautiful but a bit harsh.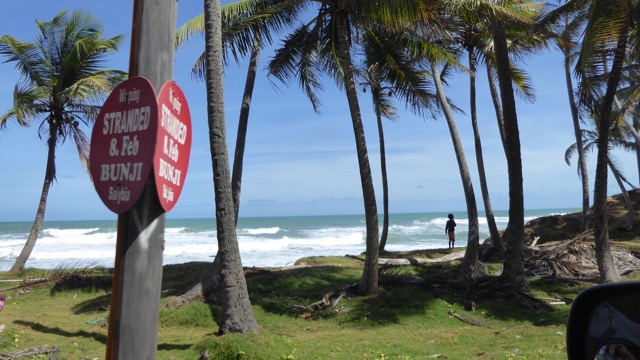 At the same day loads of locals was heading for the beaches. Picnic style it is. No fancy restaurants or bars anywhere.
But plenty of happy people everywhere. The worst part was trying to get our way back home on the narrow roads with loads of happy, maybe a bit to happy drivers. A bit scary sometimes. Not the best drivers in the world. 
Safe home at Peake Marina and rest Zanzibar we had our share of beer.
​
These totally special crazy outfits.
Today we have started to really seriously start to plan our further sailing journey towards North.
Grenada, Grenadines & St Vincent, St Lucia, Martinique, Dominica, Jamaica, Cuba ... 
We are ready to go. On Monday we will check out. Buy some duty free rom (still expensive).
It will be a night sail to Grenada, 80 Nm away, Prickly Bay.
Sometime in June we will be back here, hurricane safe zone. Peake Marina is our choice.
The best in our mind. Feels safe to leave the yacht on the hard there while we will be away.
At the moment we are anchored in the Chaguaramas Bay. After a five days on the hard we where back in the water again yesterday,Friday.
Dinner at Crews Inn. Probably one of the best and most popular restaurants in the area.
Saturday, life music is soon coming up. The steel drum is already there ...
 
​

---