Cartagena - BBQ - Discovering the interesting historical city center - Genuine Tapas encounter - Cafe Asiatico, new experience

Sans Peur
Grete & Fred Vithen
Sat 2 Sep 2017 18:59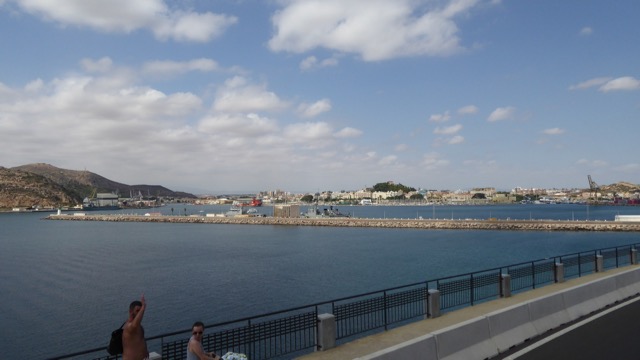 ​

Well, well
Cartagena was not as bad as Fred described it on our first encounter. 
Ended up in the wrong corner of this historical very ancient city. That part is now occupied with Moroccans (people from Marocko).
We had nice days there exploring the old town. Beautiful houses, lots of bars and good shopping.
We did the HopOnHopOf Bus, major shopping at Le Corte Englais, visited, of course, Lidl. Good vine and tapas.
Great BBQ on Sunday evening in the marina together with lots of sailors from around the world. There we met June and Lennart, Swedish, as you mabye understand. They knew where to take people in Cartagena and Monday evening they took us out for a tapas evening!
We went to Bodea La Fuente where we had their specialities,  all tapas with ansjovis and everything was delicious!!
On the way back to our boats we made a stop at Cafe Asiatico.
 A speciality from the area here, coffee with condensed milk and cognac, a few drops of Licor 43, a couple of coffee beans, lemon rind and cinnamon. What do you think about that??? That was exactly what you needed for a good night sleep!
You should try it👍
Great food and great company, tack så mycket! Lennart and June!
​This glass is especially created for this "drink, like a dessert.
---