Finally reaching Gibraltar - 3.365 m, 68 stops since leaving Licata, Sicily, 24 April

Sans Peur
Grete & Fred Vithen
Sun 10 Sep 2017 21:10
36 09 42N 05 21 44W  Gibraltar, Marina Alcaidesa
55 Nm to go. Will we make it in one go???
There is 12 hours of daylight. 
Plan B is to stay at anchor at Cala Sardina and continue tomorrow.
We had a plan, leaving early, at sunrise, means around 8 now, and stick close to the coastline.
In this way we thought we could avoid the worst swell, current and wind.
It worked out very well .. at leat most of the day.
We had a good narrow look at most of Costa del Sol, passing Marbella, Pt Banus, Estebona ...
Mr Perkins wa running at 1500 - 1700 rpm and sails went in and out as always.
Our plan worked out very well. We did managed 5-8 knots almost all the way.
At this point we start dot realise we might make it in one go. Yes!
Wind is picking up, 30-40 knots. Yankee and cutter doing a good job together with Mr Perkins.
At this moment there was some current slowing us down 2 to 3 knots.
In the narrow straight there was crazy wind gusts, up to +50 knots. Plus nasty swell.
Happy we only had our cutter out. And our always reliable iron horse.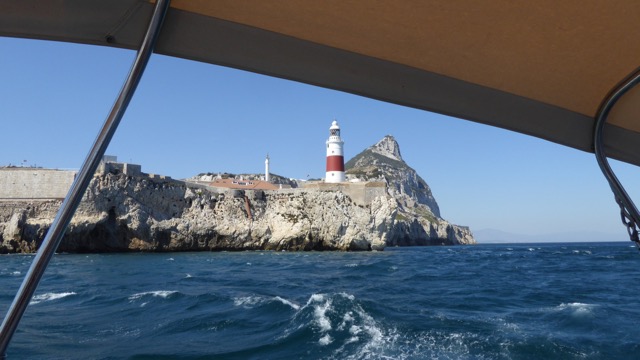 Finally entering the bay of Gibraltar.
Here we are, very happy, after incredible 9 hours. Yes we did it!
The famous cliff in the back ground.
Cheers every body!
Celebration continued with world class fire works later on. WOW!


​

---