Belgrade Open Top bus tour

Sans Peur
Grete & Fred Vithen
Mon 15 Jun 2015 15:29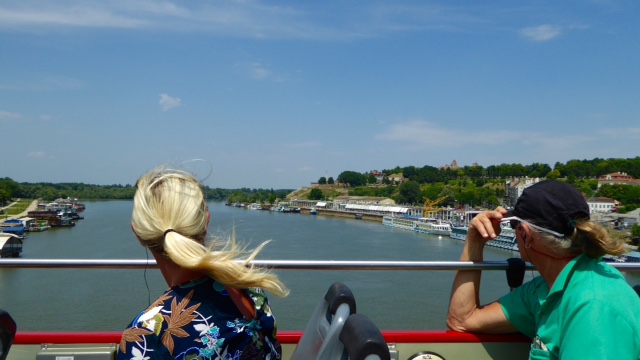 This is the best way to get a good look at and a "feel" for a city with limited time.....problem was, the bus driver was unable to start the tour with less than 10 people, and there were only 8 of us waiting to board. "No problem ", says Fred, and proposes to our fellow tourists (in 3 languages) that we each pay 10% more, (capitalistic entrepreneur in action) and so our bus driver was satisfied (although a little confused) and off we went. Still only Approx 8€ (A$12) for a very informative,entertaining 90 min tour! Belgrade was first settled more than 3000 years ago, but there are no buildings standing, more than 250 years old, because the place has been destroyed so often.
Here we are crossing one of the main bridges over the Sava (tributary of the Danube) and looking downstream to where we are moored.




Here we pass the Serbian Police headquarters, (Milosovic regime), precision bombed by NATO in '99. Apparently they accidentally also hit the Chinese Embassy (Milosovic sympathisers) for which, of course, they later apologised.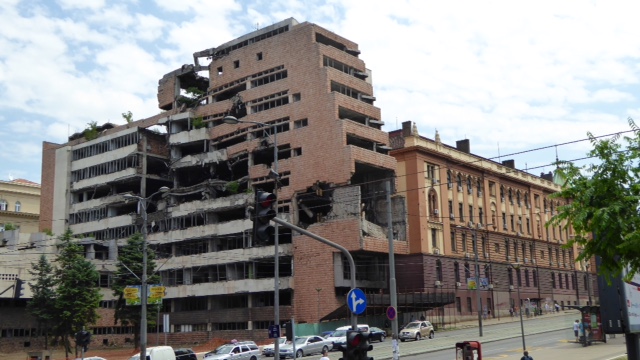 Army HQ. But it's not all bad news. There is lots of new development happening, and while we get the sense there is a long way to go, the community here seems upbeat, super welcoming, friendly and optimistic.
Tomorrow morning, we will leave early....about 6.30....Fred is always up at 5 anyway!....Grete as the Grosse Mattrose (1st mate) will no doubt be on deck, but I have been given special leave to snooze on regardless. We have about 110 kms (approximately 7/8 hours) to our next "port", Silver Lake. Exotic name....could be interesting. They claim to have discovered evidence of civilisation there, dating back to between 50,000 and 20,000 years BC (big window?)
Sent from my iPad
---