Port Suez - The beginning of the Suez Canal - Yes we did it!

Sans Peur
Grete & Fred Vithen
Thu 24 Mar 2022 16:43
29 59 91N 32 34 38E Suez Yacht Club
We arrived in El Tor 18 March. Together with (two fellow yachtsmen) Kandiba and Paw Paw we was discussion weather & sea conditions every day several times.
Sounds a bit crazy. But you have to be be very careful. The sea conditions can be very very demanding. 
Another yacht just sunk, a Bvaria 37.
Finally we found a weather window that would last 2 days. Departure on 23 March.
To get from El Tor is about 125 Nm. A night sail. Normally easy. Not in Red Sea.
I think in thoose 132 Nm we motored or a bit of motor sailing the conditions was shifting at least 5 times.
Wind, waves, swell change constantly. And again the weather predictions are not reliable.
Yes it's a challenge.  
Anyway we took of. And very happy that we did. Sometimes challenging, the waves & swell, but we managed to make speed.
Motor & motor/sailing that's what's it's all about.
We arrived 4 in the morning, pitch black, and lot of wind and swell.
You have to contact port control on channel 14. They will direct you to where to anchor. 
We decided to turn back although very chilly and tired after only 3 hours of sleep, and wait for sunrise and daylight before entering the port.
It worked out well.
Then you have to anchor before proceeding to the so called Yacht Club. 
It's basically nothing there. It's a very simply place where loads of officials & people will visit you. And everyone wants something from you, money.
Still we are very happy to be here safe and sound. Sans Peur has served us very very well and are still in good condition. Thank you Sans Peur!
Mr Perkins has done a most perfect job. In this part of the world it's all about motoring. 
To get here we motored 62 hours from Port Ghalib and used 6,2 liters / hour. Never happened before in 8 years.
normally we use max 3,5.
In a few days we will be able to proceed and motor through the Suez Canal. Will take two days.
Meanwhile we are not aloud to leave the yacht. 
Not to bad. We are tired and want some rest before next journey starts.
This place is really basic, rundown and has absolutely no sharm.
Thats where we are moored now.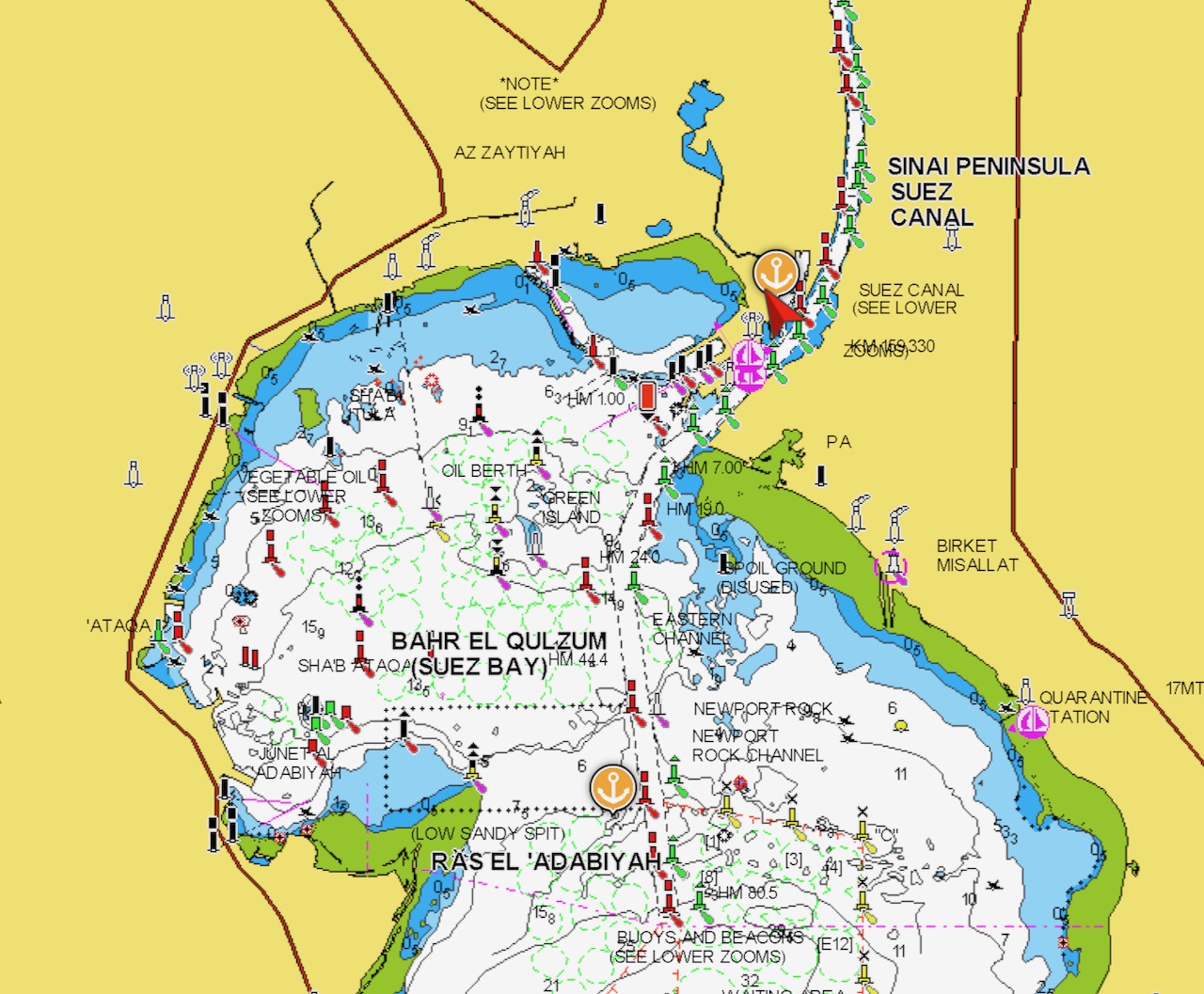 Anchorage  before entering to the Suez Yacht Club
Early morning entering Port Suez
Entering the beginning of The Suez Canal & the "Suez Yacht Club" (it's a joke)
View from our mooring. Yes the Suez Canal is there. So close. The super big ships moving past very very slowly
---