Santa Cruz, Galapagos

Sans Peur
Grete & Fred Vithen
Fri 14 Sep 2018 17:52
00 44 49S 90 18 32W  Santa Cruz, at anchor
We arrived Tuesday 11 after sailing (no motoring and no fish) 45 Nm from San Cristobal.
Today we bought new lures, 2 Rapala. Really longing for som nice fish now.
The swell is terrible ... so we needed to put out a second anchor aft to keep the boat against the waves.
Taxi boat to the jetty, 1 USD. Works fine.
And there is a quite big super market close to the jetty. We have started to fill up our stores preparing for the long leg to Easter Island.
About 1900 Nm and 14 days of sailing.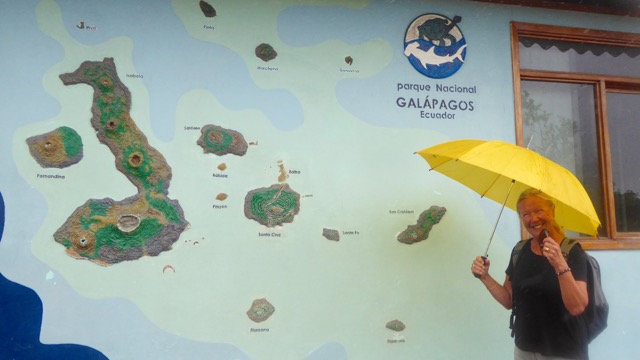 Yesterday we took a walk to the Darwin Research Center.
Yes there is a bit of rain every day on this island.
This type of title lives on an island called Espanola.
A visit to the lokal fish market.
---