Driving Around Langkawi - Part 5 The resorts at Datai Bay - Northwest Langkawi

Sea Mist > Sold to New Owners July 2016
John and Cheryl Ellsworth
Wed 8 Jul 2015 07:06
We are now on our way down to the Datai Resort and the Andaman Resort, we have anchored in the Andaman Bay and these two resorts looked really nice, plus we wanted to see what the bay looks like from land. And speaking of land, we drove by a welcoming reptile just as we approached the resort.
They have an awesome meandering pool that goes all the way to the beach.
Very nice bar, we are now off to the Datai.
Just before the Datai is the Els Golf Course
Lots of woods and water, it looked like a nice course, just how you play in the heat with the sun beating down on your head.
The monkeys are part of Langkawi so we were not surprised to see them on the golf course.
This fellow seemed to be our meet and greet guy, just before you get down to Datai. He stood and stared at me for a long time then decided I wasn't going to be one of these dumb tourists who lower their windows so I can grab something from the car, so the rest of the troop came out of the shadows.
Little one sucking his thumb…
It is nice to see them eating what nature provides rather than what man leaves behind.
Can you see his teeth, nice face?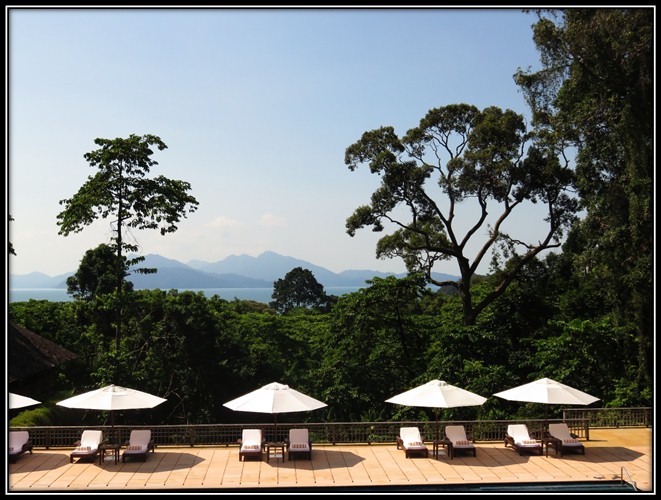 What a view, in the background you can see the Thai Islands. When we were anchored you could not see too much of this resort, just some buildings in the hills.
John in the shadows with his beer, we loved the beer glasses they used.
Sun downers on the upper deck, tomorrow we are going beachside for lunch. I'm hoping John will try to do this type of Sun downer every now and again!!!
Whilst enjoying our drinks I saw some movement in the trees, I zoomed in but it was too far for my little camera, anyway I did get a shot of the dusky leaf monkey, his eyes are google eyes and he also looks cross eyed!
I found this shot on the internet much easier to see his eyes.
We are down by the pool at the beach, this pool was very popular, beach, pool, bbq what more could you ask for.
Our chefs preparing our luncheon feast. It truly is nice to get a day off from cooking.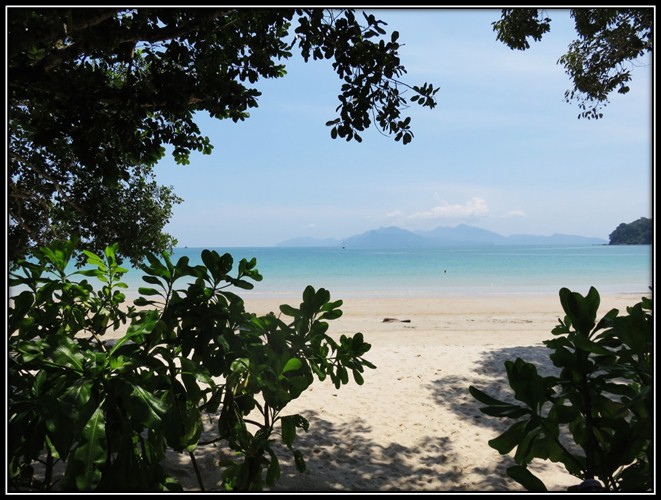 This is what we usually see, sand and plants with some buildings in the distance, you would never know there was a pool and restaurant! Oh well, back to reality, we still have to get groceries, turn in the car and get back to Sea Mist.
Good night from Langkawi.
---