Photos: Myanmar: Bagan and Its Temples - Part One

Sea Mist > Sold to New Owners July 2016
John and Cheryl Ellsworth
Sun 8 Dec 2013 13:42
Bagan
No!... this is not our bus, they spent a lot of time covering the bananas so they wouldn't be destroyed by the heat and entertained me whilst waiting for our bus.
We enjoyed the countryside, sometimes it is nice to take a bus instead of a plane, plus by the time you get to the airport, wait for your flight and then the drive to the hotel, and it is not that much faster than the bus! I found the Myanmar countryside very old world, especially seeing the farmers using the oxen and carts.
I am going to miss palm trees, I love the way they look against the skyline, maybe I can grow one inside, ha! The white and gold stupas really stand out with all of the trees as their backdrop.
The race is on, he was in a big hurry, who knew they could go that fast.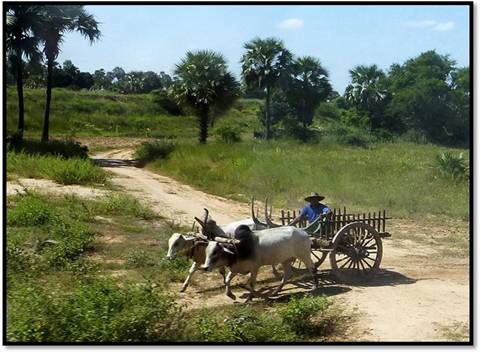 The villages seemed to pop us like mushrooms, this little girl was just walking along, not a care in the world.
They certainly know how to use the natural plants to make palm fronds to make the roofs and walls of their homes, it is a good thing this is an arid area of Myanmar.
They grow lots of corn in this area, these fields had just been seeded and they had white plastic on top to protect them from birds and keep the little seedlings moist andwarm.
Our first evening we went up on the roof of our resort and took some photos of the resort and sunset.
Time to go to sleep, tomorrow is going to be very busy, we have about 2,000 Pagodas and Temples to see…or maybe we will stop after 25 or so.
Bagan is divided into three main areas Old Bagan, New Bagan that is where our hotel was and Nyaung U. We visited a great many places and I didn't write down the names of all of the places we visited, so I thought a sampling of some of these old buildings might be fun. We started off in the Nmai Hka area then onto Old Bagan.
The temples range from very small buildings to some very imposing temples. The temples we see dotting the landscape seem to be built around the 11th century. They were made of brick and one of the perks when visiting these temples is you can get up close to see how they were built. Some of temple's brickwork is so close that you couldn't get a pin in between the bricks, all done by hand in the 11th century, quite amazing!
No matter which direction you look you will find a temple or pagoda, there are hundreds in this area alone.
Some are very humble whilst others are very large with lots of detailing.
They are everywhere you look
I really liked this temple, you can see the brick as well as the plaster that would have been painted. They used some very fine artisans to create the decorative detail work on this temple.
Sometimes you feel like Alice in Wonderland, you go through these tiny portals wondering what is on the other side…usually something very good
This was a nice surprise after we went through the opening.
There are all of these lovely paths to go for a walk and just meander through the temples.
The paintings on the arches is still preserved so you can see the details very clearly.
So many stupas in and around this temple.
Such a sad face!
These two girls were trying to sell small paintings but the younger sad little face was not able to handle rejection. She had just started so I'm sure she will get a tougher skin for it, her friend just took it all in her stride.
---