Photos: Myanmar: Mandalay - Part 2 - Day One

Sea Mist > Sold to New Owners July 2016
John and Cheryl Ellsworth
Sun 8 Dec 2013 13:03
It is time for our lunch; we have to get a 1:00pm ferry to cross over a small tributary of the Ayeyarwady River to Innwa (Ava), the old capital city. The city was destroyed in the late 1800's due to an earthquake, the king decided to rebuild his palace atAmarapura.
Our ferry boat driver's assistant…constantly pumping bilge water overboard as the boat leaks a lot.
This young girl was leading us towards the Small River Restaurant, their food was very, very good, and we were really surprised.
This is Mario Andretti our driver, he thought it was great to take his cart into every rut and pot hole and go as fast as his little pony and cart could go. There is nothing to hold onto, the wood is rotten and could come off in your hand, and we finally asked one of the more seasoned drivers to tell him to go slowly and to miss the ruts and potholes. They use the carts for the tourists but the people who live here also have cars and trucks, they were passing us along the way.
Nice Stupas.
We told Mario (with hand gestures as no English is understood by any of these locals) that we didn't need him to drive us down to the ferry as we wanted to get out and walk the last part…we were just too beaten up by the ride!
Our last stop for the day is U Bein Bridge… the longest teak bridge in Myanmar. We rented a small boat to take us out onto the water so we could get some good sunset photos of the bridge. It is a busy spot, people using the footbridge, fishermen/women fishing standing up in the water and of course the tourists on the bridge and in the small boats taking photo after photo.
Our boat man was very happy… he laughed all of the time we were with him in the boat…
They stand in the water fishing, we didn't see any of them catch any fish.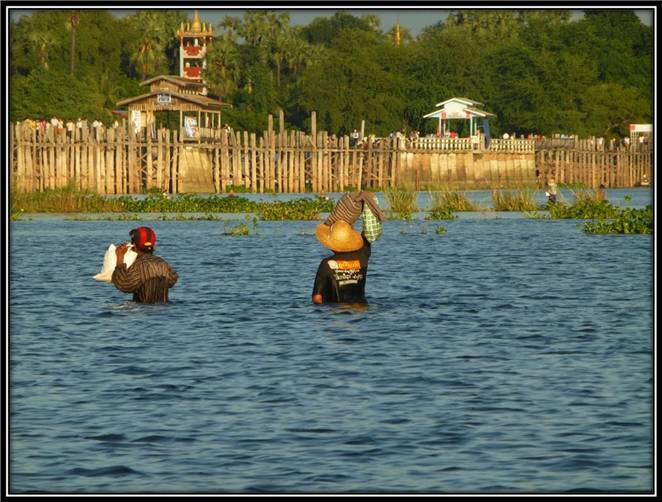 Walk through the water with your groceries.
A few locals wanting to pose for our camera.
And finally the sunset.
---