Photos Backlog Part 2 > Fiji Outer Islands South - Kandavu Group

Sea Mist > Sold to New Owners July 2016
John and Cheryl Ellsworth
Tue 18 Oct 2011 00:42
Kandavu Group
Nagura Village
We arrived at the village and to our great delight Dignity was there, we hadn't seen them since New Zealand! We set off for the savusavu (gift) of yaqona (kava root) to be presented to the head of the village.
Savusavu Ceremony with Stuart, Shelia, John, Cheryl, Ann, John, Steve, Helen the Chief and our guide.
We had a great tour of the village, they really do live,
Sleep and eat on the floors of their homes.
They really tried to keep the village clean with added special touches like the clam shells on top of the posts. If you look at the white house with the blue door, you cannot tell that it was on a remote island in the Pacific.
Always lots of washing done, in all of the villages.
The Church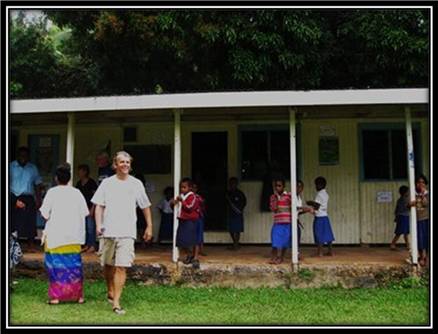 The Elementary School where the kids sand school songs for us. They also introduced themselves and gave their ages.
School songs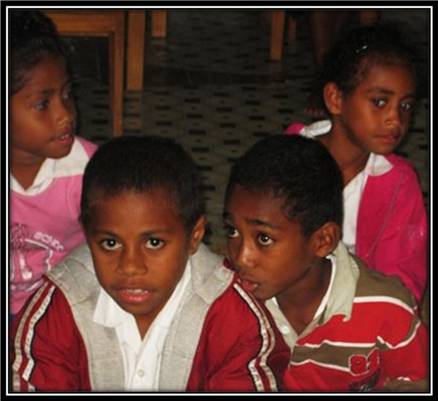 Very curious about us and the countries we were all from.
These kids were writing exams. The photo below was shot one minute after this one...
Kids are the same all over the world. Boys seem to be the clowns.
We always wonder what kind of impact we have on the village kids if any - when we arrive in our boats, bringing gifts for
School, talk about the countries we are from, John and I did a presentation on Canada we had to include family and our four seasons, they really loved the photos of our grandchildren, Elizabeth and Alex playing in the snow and the photo of a polar bear!
Before we got back into our dinghies they cut open some coconuts for us to drink. The Meke (Song & Dance) was held at the far end of the beach in the woods.
Some more of the locals.
---