Photos: Part 2 > Walking to the port town on this island of Ko Phayam

Sea Mist > Sold to New Owners July 2016
John and Cheryl Ellsworth
Tue 4 Feb 2014 03:30
Here we are at the cross roads, follow this road to the village, follow the road with the stop sign and it takes you to Ao Yai Bay.
A reminder that Valentine's Day is just around the corner and if we want we can enjoy our evening at the Rasta Garden Bar, lots of Bob Marley fans.
Her name I forget but she was just the cutest little girl, sitting so patiently whilst her Mom shooed the flies away from her fresh meat.
This fly stick was getting very full and it was still morning when we went by the meat stall.
Something for every palate. Liver, intestines, kidneys, yum.
The bougainvillea were a nice change.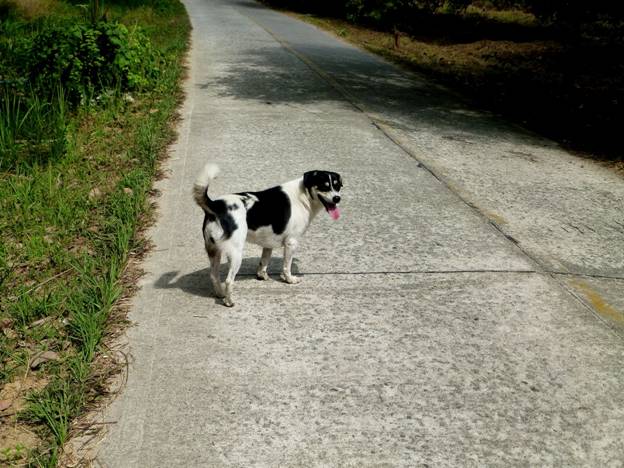 This dog was out for a walkabout, he passed us going the other way then turned around and crossed the road in front of two motorcycles, nearly got killed, then was walking along with us but forgot he was on a busy road, (motorcycles travel very fast) and walked almost into another bike, then crossed over again nearly got hit by another bike, and finally went off on a trail, thank goodness, really didn't want to see a dog killed in front of me. What a duffer!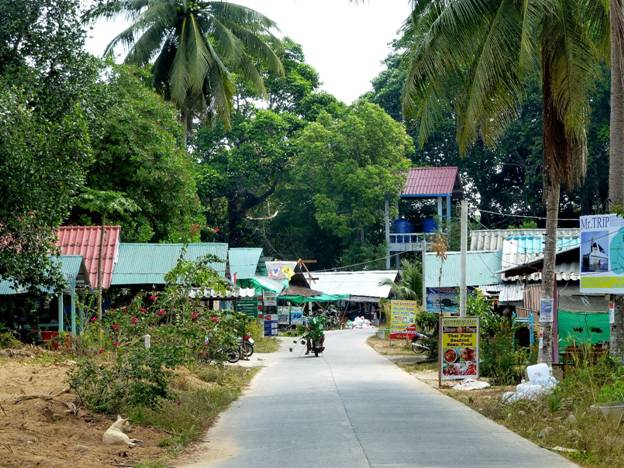 The Village
Lots of outdoors restaurants.
This is where you can rent a bike for the day.
We will probably rent a bike to tour the island.
This is where Popeye dumps his bikes that no longer run.
The local dump right alongside the outdoor cafes.
You have heard of man and his dog, will this is man and his chicken…
Another look at the village.
Penguin not Singer, an old treadmill sewing machine.
Speed bump.
We enjoyed the view and Mango Smoothies.
---